Dragonflight Vault of the Incarnates Race to World First: How to Watch, Twitch Drops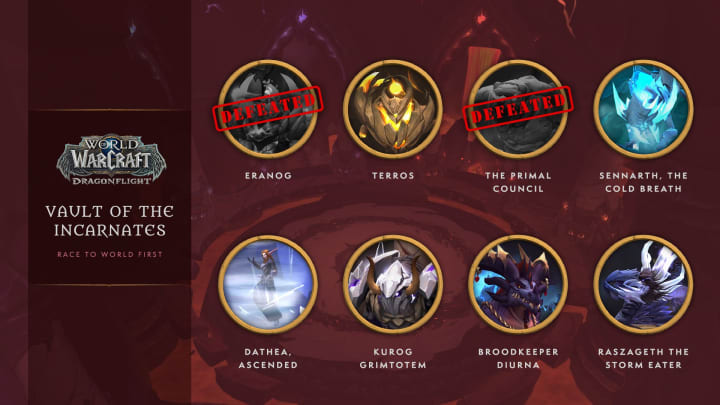 "The Race to World First is underway!" / Blizzard Entertainment
The Race to World First is officially underway for the Vault of Incarnates in World of Warcraft: Dragonflight, inviting the community to see just who will be the first in the world to clear Blizzard's most challenging 20-player Dragonflight raid.
The festivities officially kicked off on Dec. 13 at 2 p.m. ET after the reset for the Season 1 content. For those wondering how to keep up with all of the action, here's a breakdown of how to watch the Dragonflight Vault of the Incarnates Race to World First.
Dragonflight Vault of the Incarnates RWF: How to Watch
As has been the tradition with RWF functions, the event is being streamed by many teams making their attempts at a world-first clear, with the most notable ones easily found at the World of Warcraft Twitch directory.
At the time of writing, Team Liquid is in the lead at 3/8, with Imperative, Vesper, Tony Halme Pro Skater, Sabotage and The Next Step not too far behind.
Dragonflight Vault of the Incarnates RWF: Twitch Drops
As initially revealed back in October, Blizzard also happens to be running a Twitch Drop promotions for those looking to catch some RWF action.
Dragonflight Twitch Drop: Perpetual Purple Firework Toy / Blizzard Entertainment
From Dec. 13 to Dec. 29 at 2:59 a.m. ET, those who watch at least two hours of WoW: Dragonflight content from select channels while this Twitch Drop is active will earn the festive Perpetual Purple Firework toy.