Dream Dasher Warzone Blueprint: How to Unlock the Striker 45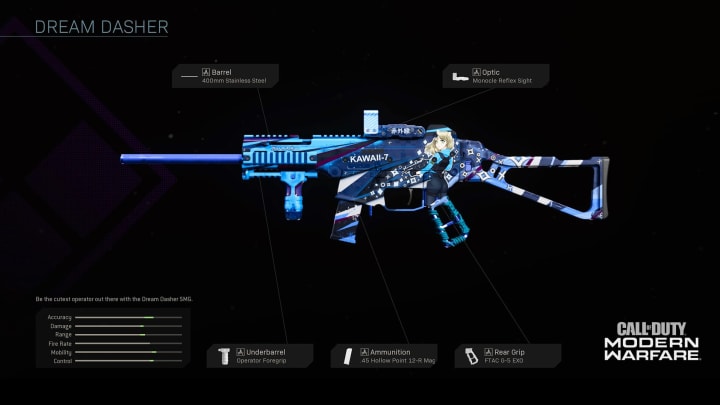 The Dream Dasher Warzone blueprint is an epic weapon variant available for the Striker 45 that can be purchased from the COD store. / Photo by Infinity Ward via GamesAtlas
The Dream Dasher Warzone blueprint is an epic weapon variant available for the Striker 45 that can be purchased from the COD store.
Weapon blueprints are unlockable weapon variants that allow players to use weapons and weapon attachments they might not have unlocked yet. The Striker 45 is somewhat difficult to unlock and the attachments with this blueprint are, too, so this might be a good purchase if you want to use the Striker 45 without waiting. Plus, it comes with a bright blue, anime-inspired skin.
Dream Dasher Warzone Blueprint
The Dream Dasher Warzone blueprint can be purchased as a part of the Notice Me III weapon pack for 800 COD Points. The bundle also includes an epic weapon charm and a rare sticker. Epic weapons usually have four attachments, but this specific weapon comes with five:
Barrel: 400mm Stainless Steel
Optic: Monocle Reflex Sight
Underbarrel: Operator Foregrip
Ammunition: .45 Hollow Point 12-R Mags
Rear Grip: FTAC G-5 EXO
This collection of attachments will only improve the weapon across the board. Accuracy and mobility will increase significantly, with slight increases in damage, range, and control. Only fire rate is unaffected by these attachments, but this weapon blueprint is one of the strongest ones statistically speaking.
Check out other popular Striker 45 blueprints: