Dream Maker Warzone Blueprint: How to Get the Holger-26 Blueprint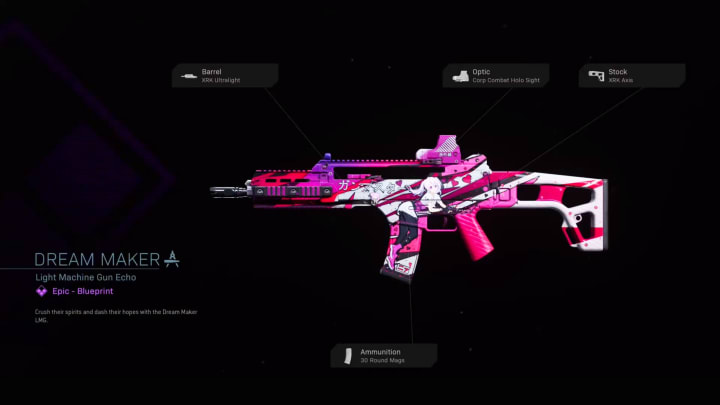 Dream Maker Warzone blueprint is a weapon variant for the Holger-26 LMG that is available as a part of the Notice Me II bundle available in-game / Photo by Infinity Ward via GamesAtlas
Dream Maker Warzone blueprint is a weapon variant for the Holger-26 LMG that is available as a part of the Notice Me II bundle available in the in-game store.
Blueprints are purchasable weapon variants that allow players to use weapons and weapon attachments that they have not unlocked yet. The Holger-26 is unlocked from Season 1's Battle Pass reaching tier 15, so if you're unable to or don't want to wait, this blueprint might be right for you.
Dream Maker Warzone Blueprint: How to Get the Holger-26 Blueprint
The Dream Maker blueprint is available as a part of the Notice Me II bundle in the store that can be purchased for 800 COD points and also comes with a weapon charm and a calling card.
The blueprint's main attraction is the skin which is a flashy pink and white with an anime style cartoon drawn onto the gun, but its functionality as a weapon is also equally strong. As it's an epic rarity gun, it only has four attachments.
Barrel: XRK Ultralight
Optic: Corp Combat Holo Sight
Stock: XRK Axis
Ammunition: 30 Round Mags
The attachments give the weapon a slight increase in accuracy, but a huge increase in mobility making the LMG a lot more usable as a run-and-gun weapon. A slight drop off in range makes this LMG a lot more viable to use as an assault rifle rather than reliant on being used as a mounted weapon.
Another popular Holger-26 blueprint is Necrosis.