Ducat Warzone Blueprint: How to Get the MP5 Blueprint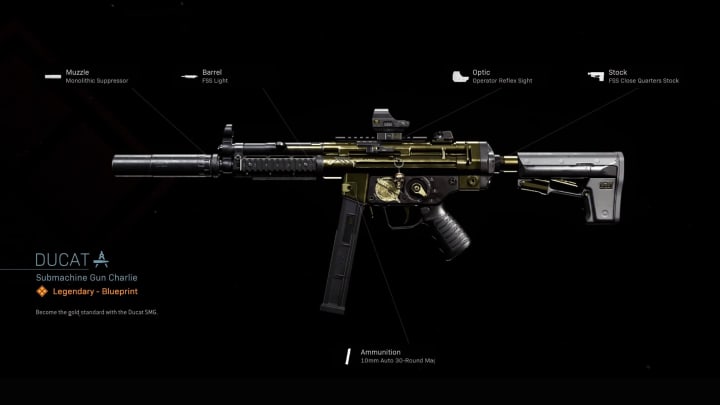 Ducat Warzone Blueprint is a weapon variant for the MP5 in Warzone and Modern Warfare available for purchase from the COD store. / Photo by Infinity Ward via GamesAtlas
Ducat Warzone Blueprint is a weapon variant for the MP5 in Warzone and Modern Warfare available for purchase from the COD store.
Blueprints allow players to use weapons and attachments that they have not yet unlocked yet. The MP5 is one of the most powerful submachine guns in the game and can be unlocked very early on in your career, but some of the attachments the Ducat gives are tougher to get.
Ducat Warzone Blueprint: How to Get the MP5 Blueprint
The Ducat blueprint is available as a part of the Executive Armory V blueprint which will cost you 1,600 COD Points in the in-game store. It is one of three legendary blueprints available in the bundle. The other two blueprints in the bundle—Florin & Doubloon—both have the same gold undertone along the barrel of the weapon.
The Ducat weapon has five attachments and no perks:
Muzzle: Monolithic Suppressor
Barrel: FSS Light
Optic: Operator Reflex Sight
Stock: FSS Close Quarters Stock
Ammunition: 10mm Auto 30-Round Mags
The attachments will provide changes to every stat. Accuracy, damage, range, and mobility will all increase slightly, but fire rate and control will drop slightly. As a sub-machine gun, fire rate and control are integral to the gun's performance, so this gun may require a slightly different play style.