Dying Light 2 Trading Breakdown: Craftmasters, Merchants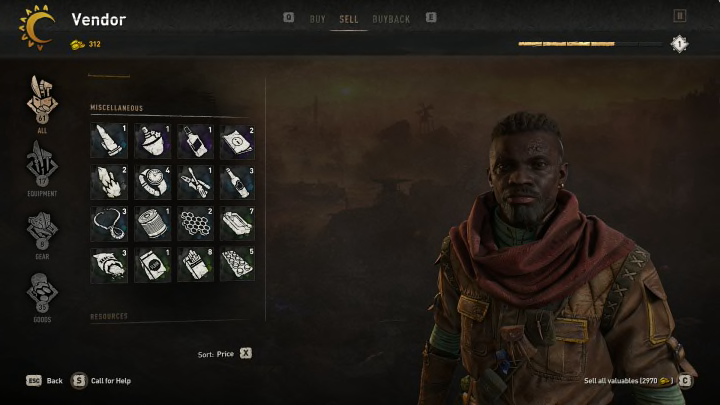 Dying Light 2 Stay Human, Techland's latest action role-playing survival horror game, was released on Feb. 4, 2022. / Image courtesy of Ralston Dacanay, Techland
In Dying Light 2 Stay Human, understanding how to trade with shopkeepers is the key to moving from rags to riches in the Modern Dark Ages.
From selling off unneeded items to acquiring valuable crafting parts and powerful weapons, here's a breakdown of the trading system in Dying Light 2 Stay Human.
Dying Light 2 Trading Breakdown: Craftmasters, Merchants
In Dying Light 2, there are two types of NPC shops at which you can buy and sell items: Craftmasters and Merchants/Vendors.
As hinted at by their title, Craftmasters allow you to buy and upgrade blueprints for accessories, consumables and weapon modifications, as well as purchase craft parts.
Craftmasters / Image courtesy of Ralston Dacanay, Techland
Upgrading blueprints through Craftmasters requires you to fork over money, uncommon materials such as military tech, and scavenged Infected Trophies that can be looted off of special zombies.
Merchants / Image courtesy of Ralston Dacanay, Techland
On the other hand, Merchants specialize in wheeling and dealing weapons, gear, accessories and craft parts, as well as fully-formed accessories and consumables.
When it comes to selling, there are three main things you should look to offload from your inventory: Miscellaneous Valuables and unwanted Weapons and Gear.
Both Craftmasters and Merchants/Vendors conveniently have a quick-sell button for Valuables, which serve no purpose in the game other than to be sold.
While there's never an option in the main story quests where you can hand over a Valuable item to get a different option, the "Sell all Valuables" function can indeed sell items used for fetch quests, so be sure to keep that in mind if you are working towards one of those objectives.
Dying Light 2 Stay Human is available now for PlayStation 4, PS5, Xbox One, Xbox Series X|S, and Windows PC (via Steam, Epic Games Store and the Techland Store).
For more on Dying Light 2, check out our guides on whether or not all weapons break, as well as its collectables.