Top Games
EA SPORTS NCAA Football: 3 Features We Want
By Michael Grullon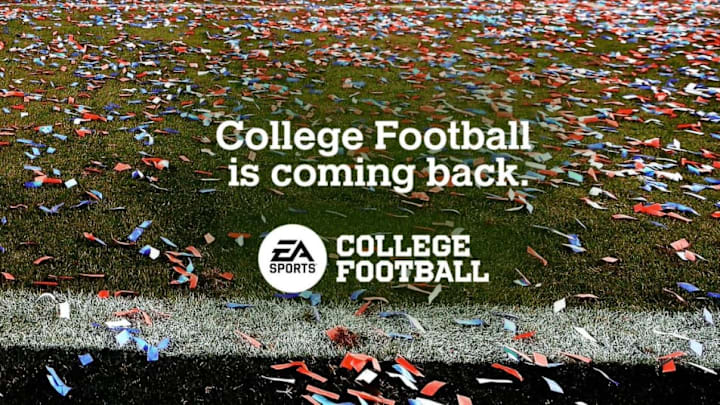 Photo Courtesy of EA SPORTS COLLEGE on Twitter
EA SPORTS NCAA Football is making a comeback after seven long years, according to EA, and football fans are just as excited for its return as they are for the Big Game.
While Madden NFL has been a continuous source of gaming for football fans, its fanbase has never truly compared to the loyal EA SPORTS NCAA Football franchise's fanbase. Some fans still go back to the last edition of the game released in 2013. But now with the game making its triumphant return with over 100 collegiate football teams, fans are already making their wishlists for NCAA Football 21. With a seven-year-long gap to fill, here are three features we want to see in the game's return, and one thing we don't.
The Return of Road To Glory
One of the reasons many players return to NCAA Football games over and over is because of the highly popular Road To Glory game mode. In it, players would create their own collegiate player, choose their position, and play through their own college career, ultimately getting drafted and transferring your player's progress to EA SPORTS Madden. In some years of the game's history, you even had to balance being a student-athlete, from choosing whether to practice and get your ratings up or study to keep your grades up. The game mode added more interactiveness and depth to a sports game career-mode, without making it too much to handle. An updated version of that game mode, with more creative options and details to creating your player, will be something to make every NCAA Football fan excited to return to the game.
Real Student-Athletes
One thing that NCAA Football fans have begged for years of the games' existence is for the ability to use all real-world players' names and likeness in the game. While fans can play with their favorite school's teams from different conferences, they lacked the ability to actually play with many of the real players of those school teams. In addition, there wasn't any player likeness in the games. However now, with the growing trend of face scans in video games, this should be more possible in the game's return, as long as the NCAA permits it. On top of that, if we do get this, hopefully, the athletes get paid for their likeness being used.
An Immersive Dynasty Mode
Dynasties are some of the rarer things in sports, and building one is one of the harder things, especially in football. College Football is no different, so why not bring that task into a College Football video game? A more immersive dynasty mode is high up on many players' wish list for NCAA Football 21. More realistic scouting, walk-ons turning into stars, a fully customizable playoff for the College Championship, all should be the top of the to-do list for EA when creating a Dynasty/Franchise Mode for the game. Recruits should be different in every save file, with fluctuating rankings for each player coming out of high school. In addition, one popular feature in past NCAA Football games was the ability to not just create your own players and recruits, but your own school. This level of immersion and creativity will be a perfect building block to promote the return of the storied football game franchise, and may even bring along a new generation of fans who love hands on experience and customization in every aspect of your game.
What We Don't Want: EA SPORTS Madden: College Edition
There's a reason many die-hard NCAA fans stuck with EA SPORTS NCAA Football 14 over Madden even years after the game's released, despite no longer being updated by EA themselves. Fans go out of their way to create and share rosters online for every new season since 2013 just for a seven-year-old game. It featured more customization, realism, and fun than Madden games did, without having to pay for in-game currency. The Blueprint for a classic football video game lies within the remnants of NCAA Football in the eyes of everyone, except EA. Fans don't need to be drowned in paying money for packs in-game featuring uniforms and players, or confusing game mechanics that turn people off, or rage-inducing online gameplay. For a game like NCAA Football 14 to last the way it has, with the loyal fans keeping the franchise popular despite no new game updates in years, says a lot for what EA had going for them. If they can just update the rosters and graphics, bring back classic game modes, and keep that custom, immersive charm that previous NCAA Football games had before, EA SPORTS NCAA Football 21 will be an easy touchdown and will capture the hearts of fans once again. You can even bring back the feature to carry your created Road to Glory player to Madden once they are drafted, which will keep fans coming back to the Madden Franchise: everyone wins. All EA Sports needs to do now, is listen to the fans.