Pokémon
Ed Sheeran to Perform in Pokémon GO Crossover Event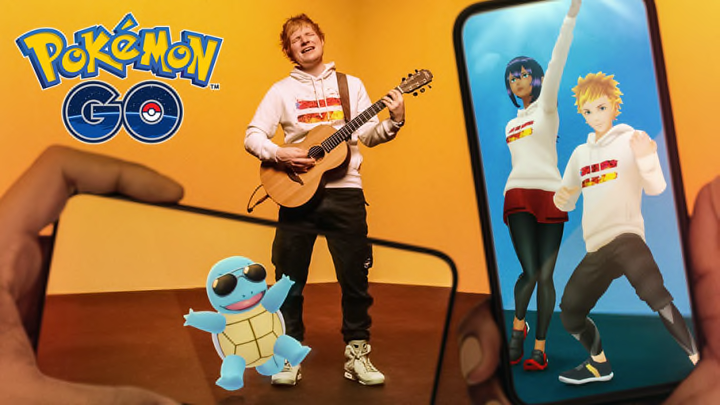 Ed Sheeran is coming to Pokémon GO. / Photo courtesy of Niantic
Ed Sheeran will appear in a special performance via the Pokémon GO app next week to celebrate the release of his new album, "=", Pokémon GO developer Niantic announced Wednesday.
"Trainers, we might have some 'Bad Habits,' but listening to Ed Sheeran songs isn't one of them!" the company wrote on its Pokémon GO blog. "They're just so 'Perfect,' they give us 'Shivers.' But enough 'Thinking Out Loud'... We're excited to announce that, for the 'First Times' ever, we'll be collaborating with the Grammy-winning singer-songwriter Ed Sheeran!"
The performance will be available through the Pokémon GO app in the in-game News section starting Monday, Nov. 22 at 2 p.m. ET. It'll leave the app Tuesday, Nov. 30 at 4 p.m. ET. Players who don't attend a showing will still be able to hear Sheeran's song "Overpass Graffiti" every night throughout the event.
Because Sheeran "always chooses the Water-type Pokémon as his first partner when he starts a Pokémon RPG," several Water-type Pokémon will appear more frequently in the wild.
Totodile
Mudkip
Piplup
Oshawott
Squirtle wearing sunglasses and Froakie will also be available during the event, as will an encounter with Squirtle wearing sunglasses players can earn by completing Field Research tasks. Shiny versions of all these Pokémon, excluding Froakie, will also be available.
Sheeran-themed cosmetics will also appear in the shop. Players can get a free in-game sweatshirt or buy either a collection of Water-type-themed stickers, or an Event box that includes a Lure Module, 20 Pokéballs, 10 Razz Berries and 10 Pinap Berries.