Eder Militao FIFA 20: How to Complete the Basic Flashback SBC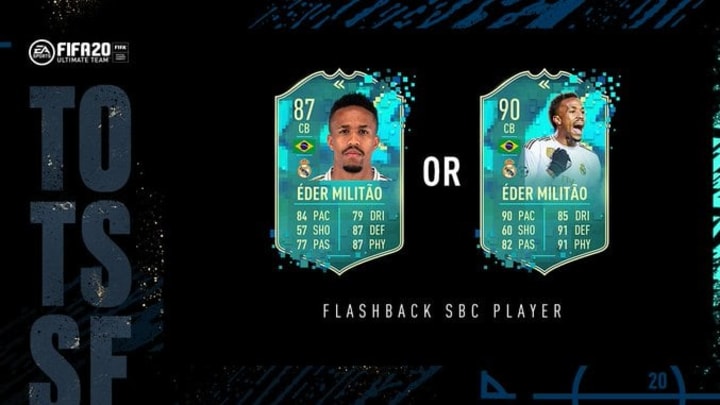 Eder Militao received two Flashback SBCs on Tuesday for Team of the Season So Far. / Photo by EA Sports
Eder Militao FIFA 20 Flashback SBC went live Tuesday as part of the Team of the Season So Far promotion.
FIFA 20 Team of the Season So Far is the biggest promotion of the year in terms of content released. The best players from leagues around the world are honored with special cards for their seasonal performances. EA Sports started a trend with the Premier League showcasing basic and premium versions of Flashback SBCs with Marcos Alonso.
EA Sports released the same content for Eder Militao with the TOTSSF La Liga content.
Eder Militao FIFA 20: How to Complete the Basic Flashback SBC
Here's how to complete the basic TOTSSF Eder Militao in FIFA 20:
Segment 1
# of Players from La Liga Santander: Min. 1
In-Form or TOTW Moments Players: Min. 1
Squad Rating: 84
Team Chemistry: 75
# of Players in the Squad: 11
REWARD: Jumbo Premium Gold Pack
Segment 2
Squad Rating: 87
Team Chemistry: 65
# of Players in the Squad: 11
REWARD: Rare Electrum Players Pack
The basic Eder Militao expires Tuesday, May 19 at 1 pm. ET. The basic version is a quality card, but is trumped by the premium version. D