Elden Ring Bandit Class Guide: Stats, Weapons, Armor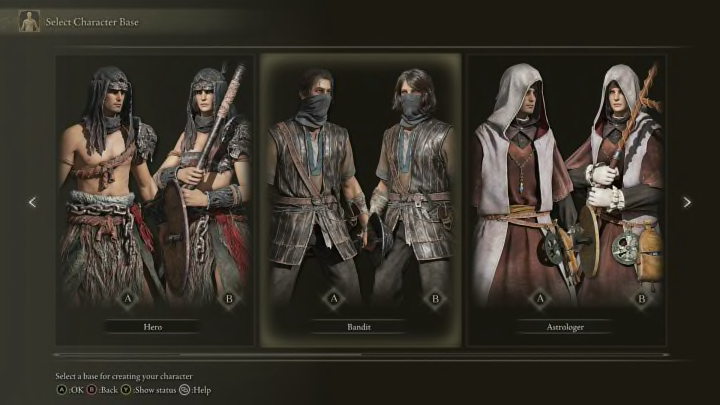 Elden Ring's Bandit class is among the most difficult to start with. / Courtesy of FromSoftware/Bandai Namco, Screenshot by Noam Radcliffe
The Bandit is one of the most unusual starting classes in Elden Ring in large part because of its heavy investment in Arcane. Arcane is the most esoteric attribute in Elden Ring, affecting a few resistances, certain specific Sorceries and Incantations, and item Discovery. Most builds ignore it altogether, but it has its uses.
Here's how to build the Bandit for maximal effectiveness.
Elden Ring Bandit Class Guide: Stats
The Bandit is the only class to start with a focus in Arcane, its highest stat at 14. That high Arcane stat can help the Bandit build up on-hit effects such as Blood Loss on enemies more quickly. Its next highest stat is Dexterity at 13, and the rest of its stats hover around the base of 10.
If you're looking to lean into that early Arcane boost, you'll want to continue bumping it in addition to Dexterity and Vigor as you seek out weapons that apply the on-hit effect you think is best.
Ideal stats for the Bandit should look something like this:
Vigor: 40
Mind: 11
Endurance: 25
Strength: 9
Dexterity: 50 (35 if two-handing)
Intelligence: 9
Faith: 8
Arcane: 50
As for order, you'll be best served by taking Dexterity, Arcane and Vigor to 20 as soon as possible. From that point on, you can upgrade each at the pace that seems right to you.
Elden Ring Bandit Class Guide: Weapons
The Uchigatana can be collected by clearing out this early dungeon. / Courtesy of FromSoftware/Bandai Namco, Screenshot by Noam Radcliffe
The Bandit's starting Great Knife is a fairly pitiful weapon greatly helped by its ability to inflict Blood Loss. For a quick and easy early game upgrade, seek out the Uchigatana in the Deathtouched Catacombs. One- or two-handed, the Uchigatana scales well with Dexterity, inflicts more Blood Loss, and has a significantly improved range.
You'll be able to swap out the Uchigatana's Art of War and adjust its scaling and on-hit effect as you progress through the game, and you can even swap it out if you find another Dexterity weapon that you're more comfortable with — just be sure it has an on-hit effect to benefit from your high Arcane stat.
Elden Ring Bandit Class Guide: Armor
The Bandit's starting armor is more than adequate for a light armor build thanks to its relatively low weight. There aren't many options for light armor upgrades in the early game, so you'll be happy to have started with this set.
The armor symbol on the right of Ordina, Liturgical Town denotes the location of the Black Knife Assassin set. / Courtesy of Fextralife
In the late game, keep an eye out for the Armor of the Black Knife Assassins. You'll be able to find it in Ordina, one of the very late game areas. It's lying on a body beneath an archway to the north of the Grand Lift of Rold.