Top Games
Embracer Group Creating 'Archive of All Games'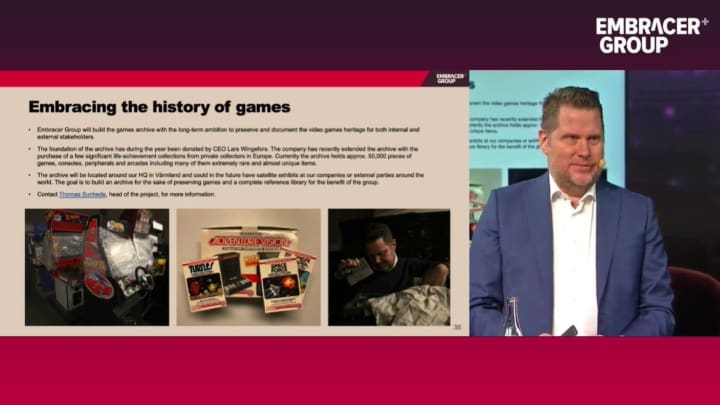 Embracer Group plans to create an archive of every video game ever made. / Photo courtesy of Embracer Group
Embracer Group, the company that owns Gearbox Software, Volition and 4A Games, plans to create a video game archive that includes every game ever made.
Embracer Group adviser Martin Lindell announced the plans on Twitter on Thursday.
"Embracer Group will build the games archive with the long-term ambition to preserve and document the video games heritage for both internal and external stakeholders," reads a description from a company deck about the project.
Embracer CEO Lars Wingefors, a game collector in his own right, donated his collection to serve as the archive's baseline. It now includes around 50,000 pieces, some of which the company says are "extremely rare and almost unique."
"However, this collection or archive is by no means complete," Wingefors said during the company's Q3 financial report. "This will take decades, if ever, to get complete, but it will be a true joy for myself and many of my colleagues."
The archive will be headquartered around the company's base in Värmland, with potential satellite exhibits either elsewhere in company or at external locations.
"The goal is to build an archive for the sake of preserving games and a complete reference library for the benefit of the group," the company says.
Thomas Sunhede, co-author of a history of Swedish video game development, will lead the project.
So What Does This Mean for Games History?
Embracer's initiative may be a net positive for video games as a medium, but it's important to recognize the dangers in private archiving.
The Film Foundation claims that half of all American films made before 1950, and more than 90% of all films made before 1929 are lost forever. That's at least in part a result of the industry, and the culture at large, initially treating the form as a passing novelty and a business, rather than an art form. That loss is in some ways immeasurable.
Embracer's collection could manage to prevent a similar loss from taking place in games, saving the work of the medium's earliest innovators for posterity. On that level, it would provide an invaluable public service, and there aren't many credible archival attempts with the resources of a company like Embracer.
However, as a private initiative, it's unclear how open to public use the archive would be. Furthermore, allowing any profit-motivated entity control of history is a significant risk, as its existence lies predicated on the company's continued success. One bad financial result, and the entire collection could be lost to the winds.
It remains to be seen how Embracer will manage its collection.