Eric Bailly FIFA 23: How to Complete the Winter Wildcards SBC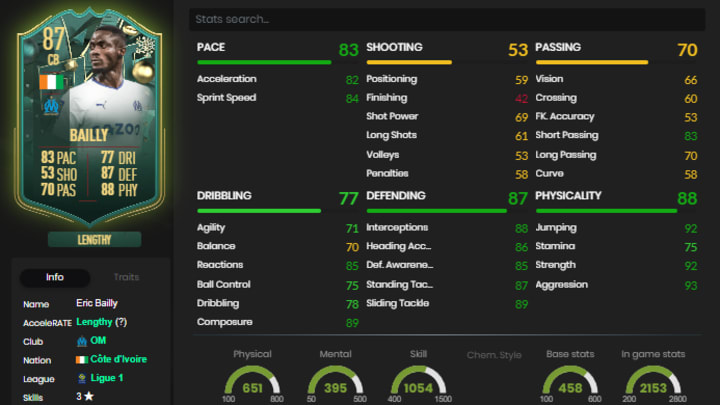 FUTBIN
Eric Bailly FIFA 23 Winter Wildcards SBC went live Dec. 30 at the start of Winter Wildcards Team 2.
Winter Wildcards Eric Bailly is the first daily player SBC of Team 2 giving fans a great option in defense for Ligue 1 squads. Bailly, who previously played at Manchester United, now plays for Marseille and looks to be one of the best special Ligue 1 defender items in the game. As well, he can provide a valuable nation link for chemistry for players still running items like Rulebreakers Wilfried Zaha or Ones to Watch Franck Kessie.
Eric Bailly FIFA 23: How to Complete the Winter Wildcards SBC
Here's how to complete the FIFA 23 Winter Wildcards Eric Bailly SBC:
One Segment
Ligue 1 Players: Min. 1
Team of the Week Players: Min. 1
Squad Rating: 85
No Chemistry Requirement
Players in the Squad: 11
Winter Wildcards Bailly is coming in around 72,000 coins to complete from scratch. A tad expensive, but the coin cost can be mitigated through the numerous amount of packs that are available to earn through objectives or League SBC grinding. Most players with Ligue 1 defenses have been running items like Kimpembe or Marquinhos. Bailly makes for a great upgrade along with nation links previously mentioned and a valuable club link to Winter Wildcards Dimitri Payet.
Winter Wildcards Bailly expires Jan. 13 at 1 p.m. ET.