Escape from Tarkov Likely to Wipe Week of June 27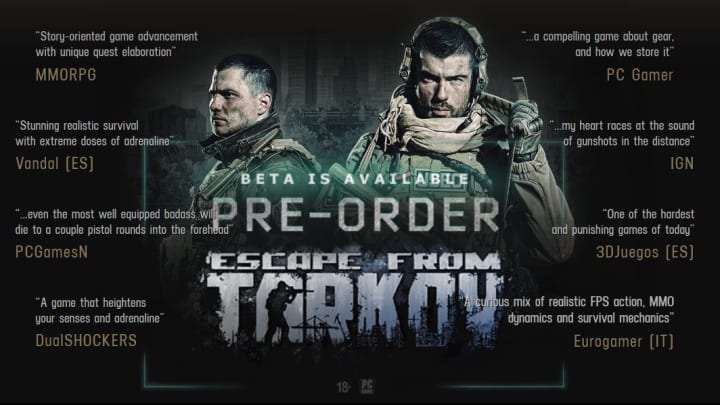 Image Courtesy of Battlestate Games/escapefromtarkov.com
For Escape from Tarkov players, a wipe is likely upon us. For the uninitiated, a "wipe" occurs in the game every now and then, resetting every player's progress.
Escape from Tarkov, described on its website, as a, "hardcore and realistic online first-person action RPG/Simulator with MMO features and a story-driven walkthrough," can be hard for most casual gamers to jump right into. Because the main objectives of the game include surviving raids in order to stockpile more loot in order to better survive later raids and other survival modes, it can be challenging for noobs with less experience.
The "wipe" serves as a way to level the playing field between new players and hardened veterans, thereby bringing a new pool of talent to the game. Evidence for the upcoming wipe surfaced on Twitter early this morning, with the developer of Tarkov, Battlestate Games tweeting this:
Escape from Tarkov Likely to Wipe Week of June 27
According to Twitter user @way2lazi in the comments, the note, translated from Russian, reads roughly, "I have sent you a large shipment of the upgraded substance that we have been experimenting with. A third will go to your business, and the rest will need to be distributed to local buyers. We can pick up it from our friend (female friend in original) I'm counting on you."
The letter concerns the Obdolbos cocktail injector, created by Sanitar in the game's lore. The properties of the injector appear to have been boosted in the game's mechanics, which indicates an incoming wipe.
Popular Tarkov content creator Onepeg points out in his YouTube video on the subject, how this message "is a carbon copy of an event that happened in December of last year. Leading up to the events of the wipe we had this letter that was penned by Sanitar." In other words, if it has happened before, it can likely happen again.
Onepeg also found evidence of a pre-wipe in another clip authored yesterday. In it, he dissects footage from Tarkov streamer sscorpionn, who witnesses five airdrops occurring concurrently while playing. Because a central element of Escape from Tarkov is the difficulty in obtaining weapons and other essential materials, these events of plenty cause mayhem across the Tarkov lobbies.
When the wipe will occur still remains somewhat of a mystery. If we follow the pattern Battlestate Games has set with other wipes, and all evidence points to a very deliberate pattern being adhered to, there is a good chance it will be Thursday, as in wipes past.