Top Games
Everything Coming to Animal Crossing: New Horizons Free November Update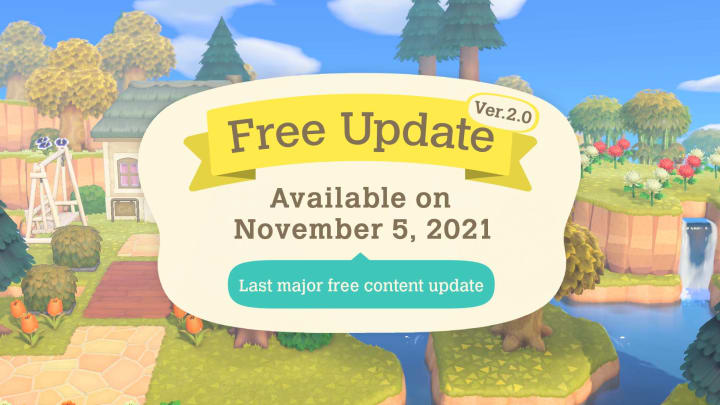 Image courtesy of Nintendo
Thanks to the recent Animal Crossing Direct, we now know everything that will be coming to Animal Crossing: New Horizons in the next free update.
Animal Crossing fans everywhere can finally breathe a sigh of relief. With Nintendo's recent Animal Crossing Direct, it seems a whole host of new free content will be coming to the game. Many of these new additions have been repeatedly requested from fans since the game's release. The Direct no doubt came as a shock to many, considering just how much will be added in the next update.
Since Animal Crossing: New Horizon's release back in March 2020, many fans felt that there was a noticeable lack of content. Despite the game's success and brand new features, quite a few series favorites were missing from island life. Beloved NPCs such as Brewster, Tortimer, Katrina, and more were nowhere to be seen, making life on our island getaways feel a little less lively than in previous installments. Thankfully, this is now set to change. The free update coming on Nov. 5, 2021 is set to add back most of the fan favorites in some brand new capacities, along with much, much more.
Everything Coming to Animal Crossing: New Horizons in November Update
Image courtesy of Nintendo/Screenshot: Alexandra Hobbs
If, like me, you spent a good portion of time prior to the Direct scrolling through fan predictions (scoffing at some), you'll probably be sat in disbelief at just how many are coming true. Here's everything that was laid out in the Direct, and some of the more subtle additions set to come in the Animal Crossing: New Horizons update.
The Roost
Yes, Brewster and The Roost have been officially confirmed - though we mostly knew this thanks to the short teaser released a few weeks ago. The Roost will be situated in a new room on the upper floor of the museum. Players will be able to relax here with a nice cup of pidgeon-brewed coffee, for the measly cost of 200 Bells. Villagers and NPC characters will also show up from time to time, including Isabelle, looking to take a load off after a hard day's work.
Players will be able to visit The Roost with online friends, and also be able to invite amiibo villagers to drop-in too.
Kapp'n
Veteran Animal Crossing players will remember Kapp'n. Usually seen operating a form of transport, more recently Kapp'n had been ferrying players to and from islands, as seen in Animal Crossing: New Leaf. Noticeably missing from New Horizons at first, Kapp'n will be making a return to once again ferry players to nearby mystery islands with his trusty boat. Expect the journey to involve a sea shanty or two.
These Mystery Island Boat Tours will differ slightly to the ones accessed via the Dodo Airlines. Players might find themselves transported to an island with a different time of day, different flora, or even a different season.
Harv's Island
Harv's Island is set to get an overhaul, too. No longer will it simply be home to his photography studio, but a new area will be added for players to develop into a shopping hub. By contributing Bells, players can unlock merchant stations occupied by some of the game's well-known NPCs.
Some more familiar NPCs from other games in the series will also be making an appearance here. Reese and Cyrus will return, helping to customize certain items that couldn't be customized before. These will largely include items purchased with Nook Miles. This allows players to change the color of certain items which, initially, would have only been achieved by trading with friends. Katrina will be making an appearance to tell the player's daily fortune and Harriet will be there to give you some brand new haircuts.
Tortimer has also been confirmed as a visitor on Harv's island, though it's not quite clear what his purpose will be. Regardless, we're happy to see him alive and well.
Ordinances
The Night Owl Ordinance will ensure businesses and villagers will be active later into the evening. / Image courtesy of Nintendo/Screenshot: Katherine Geogheghan
Ordinances are making a comeback after their introduction in Animal Crossing: New Leaf. These enact some new changes to your island in order to fit your playstyle. For example, the Early Bird Ordinance ensures that all of your villagers are awake and active earlier in the day. Similarly, the Night Owl Ordinance means that everything will be active a little later into the evening.
Cooking
One of the more unexpected (but still highly requested) features being added is cooking. Players will be able to grow their own vegetables then use them in cooking recipes. These meals can be crafted as kitchen items, adding a new functional purpose to some of the furniture. New vegetables include tomatoes, sugar cane, wheat, and more.
Additional Changes
The number of available bridges and inclines will increase to 10 each. / Image courtesy of Nintendo/Screenshot: Heather Bradbury
New ceiling items
New fence types and customizations
Accent walls
Bridges and inclines number increased to 10 each
11 new hairstyles
11 new reactions
New Nook Phone app - Island 101
More furniture added to the Nook Miles shop
Outdoor storage shed that connects to house storage
An outdoor ATM machine, named the ABD
12 new K.K. Slider songs
Music boxes
Customizable Gyroids
Updated camera functions
New ladder tool allowing players to permanently place ladders on cliffs
The famous Froggy Chair
Able to move through narrow spaces
Villagers can now visit your home, and invite you to hang out in theirs
Group stretching activities
New external home customization options
This free update will be available on Nov. 5, 2021. It's worth noting that this is the last major free update scheduled for Animal Crossing: New Horizons. A paid DLC, titled Happy Home Paradise, will be also be made available to purchase on Nov. 5.