Eyes in the Dark Takes Too Many Trips to the Haunted Mansion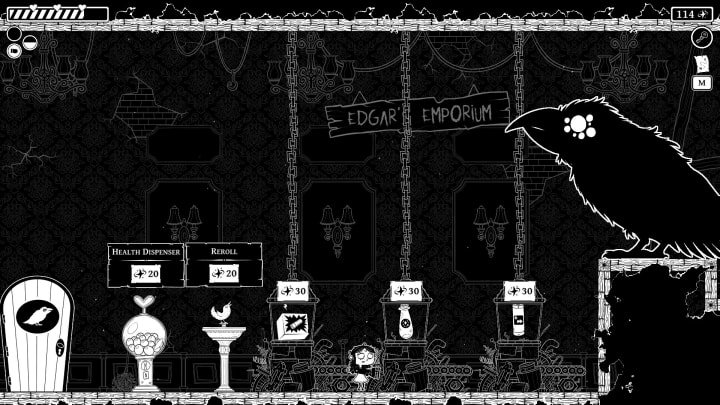 Edgar the giant raven keeps shop in Bloom Manor. / Courtesy of Under the Stairs, screenshot by Noam Radcliffe
In Eyes in the Dark, every night is dark and stormy. It's also eerily the same, for better or worse.
When Victoria Bloom, the youngest in a long line of mystics and inventors, returns to her ancestral home in 1922, she's greeted at the gates not by her grandfather, but by insect-like monsters hiding in the inky black. Arming herself with a flashlight (she'd likely call it a torch, Brit that she is), she vanquishes both shadows and creatures by blasting them with light and makes her way inside. She arrives just in time to see her grandfather taken by the most horrid of these monsters, and embarks on a quest to save him.
In each room of the ever-shifting (read as: procedurally generated) Bloom mansion, Victoria finds new monsters with which to contend. As she explores, she picks up power-ups for the flashlight. Different bulbs change the shape of the light, and different batteries change its effects. She also finds new shoes that might let her double-jump or briefly float, or gadgets that modify her trusty slingshot, which recharges when Victoria deals flashlight damage to enemies. Any and all of these upgrades can be found in chests scattered randomly around the mansion, as rewards for completing especially challenging rooms, or to purchase from Edgar, the giant, shopkeeping raven.
The Bloom estate is divided into nine sections, and each offers its own unique challenges and enemies. The garden has no divisions between rooms, for example, and among its enemies are carnivorous plants that stay rooted to the ground. The attic, on the other hand, focuses on verticality, with gnarly spiders to chase you around. To move from one section to the next, Victoria must defeat a boss, called a Guardian, each of which corresponds to a different member of the Bloom lineage. Should she fail to meet any of these challenges (succumbing to her fear, in the game's terms), her grandfather's trusty pocket watch returns her to the start of the night, where she can unlock some persistent power-ups and undergo the whole process again.
Victoria's flashlight deals damage to enemies and reveals the darkened corners of the mansion. / Courtesy of Under the Stairs, screenshot by Noam Radcliffe
So it's another roguelite, basically. Eyes in the Dark has some unique charms, of course. The game's cartoony, monochromatic visuals help it stand out, for one. Its chiptune soundtrack contrasts nicely against the '20s aesthetic, and grew on me over the course of my playtime. Unlike many entries in the genre, it's not punishingly difficult. But beyond that, the game falters.
Because they often forgo narrative in the name of short, binge-able play sessions, roguelites live and die by their mechanics. Eyes in the Dark largely makes the same gamble, and that's where it struggles. Movement as Victoria isn't particularly smooth or satisfying. It can often take several attempts to drop through platforms, or to grab onto hanging ropes. Her dodge ability is so abrupt, and enemy projectiles so slow, that they feel out of sync. I frequently found myself dodging into attacks I could have otherwise avoided. I did much better when I ignored the dodge entirely. 
Victoria slowly learns the rules of her challenge over the course of her adventures in the mansion. / Courtesy of Under the Stairs, screenshot by Noam Radcliffe
All (or some) of this could be made up for if combat itself were engaging. But enemy variations are too slight to feel meaningful, and simply holding down the left mouse button to shine a continuous beam, watching the numbers tick up, feels like too thin a conceit. It doesn't help that many of the upgrades that change the flashlight's behavior — shooting globes of light, transforming it into a whip — seem to make it less effective, encouraging me to stick with the least interesting options.
Eyes in the Dark has some interesting ideas, but none fire to their full potential. The game's core mechanics just aren't there; all the upgrades in the world can't save it.
Eyes in the Dark was released July 14 for PC via Steam and the Epic Games Store.
DBLTAP was provided with a copy of Eyes in the Dark by its publisher, Gearbox Publishing.