Top Games
F1 Manager 2022 ERS Strategies: Full List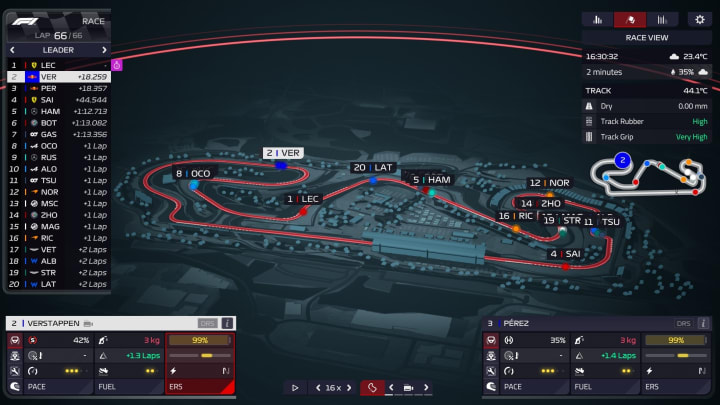 Photo by Frontier/EA, screenshot captured by Max Mallow
F1 Manager 2022 ERS Commands change how a driver will use their ERS during driving sessions.
ERS is a key component of Formula 1 cars. ERS stands for Energy Recovery System and helps the car recover energy lost by a car during races. Cars lose both heat and kinetic energy, so ERS is meant to try and recover and re-use that energy lost.
Players have multiple tools at their disposal for ERS to combine with their Fuel Commands and Pace Commands during sessions. ERS is measured in megajoules in F1 Manager 2022.
F1 Manager 2022 ERS Strategies: Full List
Here are the ERS Commands available to Team Principals:
Harvest - Increase lap times, store 1 MJ per lap
Neutral - Default setting, no change to lap times nor MJ per lap
Deploy - Significantly increase lap times, burn 2 MJ per lap
Defend - Increase lap times, burn 2 MJ per lap
Overtake - Increase lap times, burn 2 MJ per lap
Photo by Frontier/EA, screenshot captured by Max Mallow
Players will have to figure out the best way to combine certain ERS Strategies to deploy alongside Pace Commands and Fuel Commands. Certain scenarios will call for defending positions in a race, others will require players to deploy ERS to make up time against those in front of your drivers.
F1 Manager 2022 is available for PlayStation, Xbox and PC.