Fabregas FIFA 22 Challenges: How to Complete the End of an Era Objective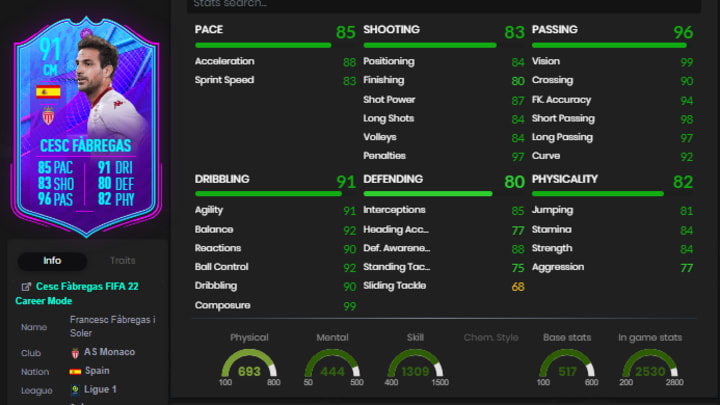 Photo by FUTBIN
Cesc Fabregas FIFA 22 challenges went live in the Objective menu as a free-to-earn card celebrating Fabregas' historic career.
Fabregas is widely considered one of the best midfielders of his generation, if not the best. The Spanish midfielder is known for his time at Arsenal and Chelsea while spending the past few years of his career at AS Monaco. EA Sports released End of an Era, or Premium, SBCs for Fabregas, Angel Di Maria and Juan Mata all on June 10 alongside the release of Ultimate Team of the Season.
Fabregas FIFA 22 Challenges: How to Complete the End of an Era Objective
Here's how to complete the End of an Era Fabregas objectives in FIFA 22:
Long Shot - Score four goals from outside the box using midfielders in Squad Battles on min. Professional difficulty (or Rivals)
Maverick in Monaco - Assist four goals using Ligue 1 players with min. four-star weak foot in Squad Battles on min. World Class difficulty (or Rivals)
A Great Gunner - Score using Premier League players in five separate Squad Battles matches on min. Professional difficulty (or Rivals)
Spanish Success - Win eight matches in Squad Battles on min. Professional difficulty with 11 Spanish players in your starting squad (or Rivals)
In total, this objective will take eight matches in total to complete the objective as long as you win each of your games and complete the objectives required along the way. A nice card, but one some fans feel doesn't fully represent Fabregas' impact on the game. There are certainly better midfielders in Ligue 1 and from Spain in FIFA 22 currently, but for theme teams it's a nice item to collect.
Completing each objective will also net players the expected amount of experience and packs.