Facundo Medina FIFA 22: How to Complete the Fantasy FUT SBC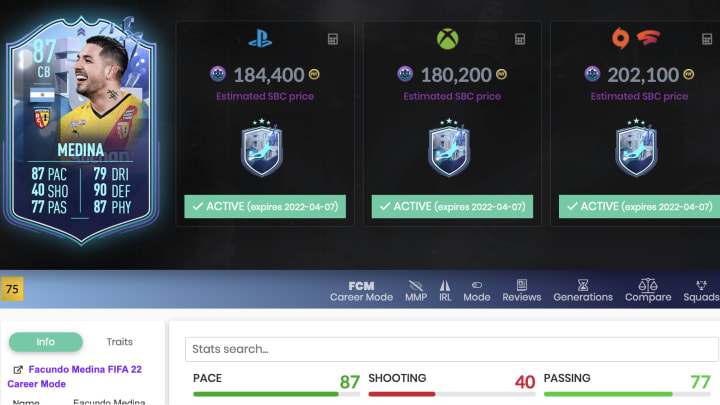 Facundo Medina FIFA 22 / Photo Courtesy of FUTBIN
Facundo Medina has received a special Fantasy FUT item in FIFA 22. The Fantasy FUT SBC is now available in Ultimate Team, and is available for a limited time.
Fantasy FUT players are live items that can be upgrades as they perform for their teams in real world football. Here's how to complete the new Facundo Medina Fantasy FUT SBC in FIFA 22.
How to Complete the Fantasy FUT Facundo Medina SBC
Medina's Fantasy FUT SBC requires two squad segments to complete, each with the following requirements:
Squad 1
Team Overall Rating: Min. 85
Team Chemistry: Min. 75
Players from Argentina: Min. 1
Reward: Premium Mixed Players Pack
Squad 2
Team Overall Rating: Min. 86
Team Chemistry: Min. 65
Players from Ligue 1: Min. 1
Reward: Rare Mixed Players Pack
Medina is a regular starter for RC Lens in the Ligue 1, and since the team have played well as of late, he will likely get the full +3 upgrade to a 90 overall if Lens maintain a clean sheet in the next five games. However, this is definitely an expensive card, coming in around 180,000 coins. Since he's a live item with probable upgrades on the way, it's hard to say if this card will be worth 180,000 coins, especially if he isn't upgraded.
He does link to players such as Seko Fofana and Jonathan Clauss, which is a great addition. If you have the fodder and need a Ligue 1 CB, then he is a solid choice for you. However, there are already many alternatives, such as Jason Denayer's RTTF item, that you can just buy on the transfer market.
Medina's SBC is available until April 7.