Faker Re-Signs With T1 for 10th Season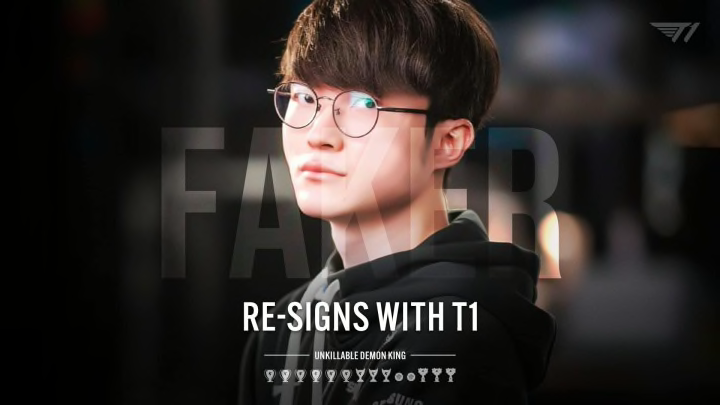 Lee "Faker" Sang-hyeok has re-signed to remain the mid laner for T1 League of Legends next season. / Photo courtesy of T1
T1 League of Legends mid laner Lee "Faker" Sang-hyeok has re-signed, the LCK team announced Friday.
At the time of writing, the specific details about the length of the contract have yet to be announced, but it does guarantee that 2022 will mark Faker's 10th season with the organization.
"Faker means a lot to the organization," T1 CEO Joe Marsh told Inven Global. "One of the gaming superstars who came up at such a young age, even now, where he's at in his career, he still kind of transcends the sport, and he's truly an international celebrity.
"Hopefully, we can bring the fourth championship to Faker."
In recent weeks, the rumor mill and overall frenzy of the League of Legends offseason have been running rampant as the scene awaits to see where many of its biggest franchise stars land.
Although it would've been difficult to imagine Faker leaving for another org, his future with T1 had become something many truly started to question in the past few days.
Prior to Faker's decision to re-sign, the news around T1 had only been revolving around players and coaches parting ways with the org, from coach Son "Stardust" Seok-hee, to mid laner Lee "Clozer" Ju-hyeon and AD carry Park "Teddy" Jin-seong.
"Honored that Faker has chosen to re-sign with T1," Marsh said on Twitter. "These past few days have been a lot of sleepless nights and long conversations with Faker and his team. Excited to continue on this journey together."
For now, the T1 League of Legends roster remains:
Kim "Canna" Chang-dong
Choi "Zeus" Woo-je
Choi "Ellim" El-lim
Moon "Oner" Hyeon-joon
Lee "Faker" Sang-hyeok
Lee "Gumayusi" Min-hyeong
Ryu "Keria" Min-seok