Fall Guys Announces Fatal Fury Collaboration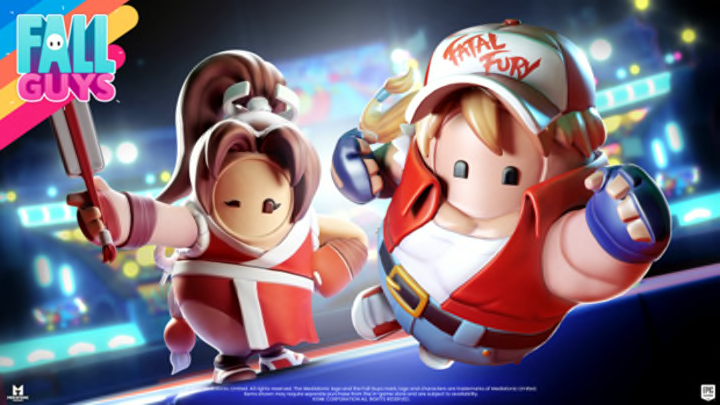 Fatal Fury x Fall Guys Collaboration / Image courtesy of Mediatonic
Fall Guys has announced a new collaboration with popular SNK fighting game Fatal Fury.
Fall Guys is certainly giving Fortnite a run for its money when it comes to collaborations. Heading to the game tomorrow, Aug. 4 are two characters from SNK's Fatal Fury franchise — Terry Bogard and Mai Shiranui.
The two upcoming costumes replicate the characters' iconic outfits in the Fall Guys bean form. Terry's outfit is seen sporting his sleeveless red jacket and white shirt, denim jeans, and red and white hat. As for Mai, her outfit sports the high ponytail and red and white fighting garb,
The costumes aren't the only cosmetics on offer. Players can also grab a themed Nameplate and Emote.
Fall Guys x Fatal Fury Collaboration: All Items Detailed
The complete set of items available as part of the new Fall Guys x Fatal Fury collab includes:
Terry Bogard Costume
Mai Shiranui Costume
"Shiranui Style of Ninja Arts" Nameplate
C'mon, C'mon Emote
The crossover will only be available for a short time, runnign from Aug. 4 - 8, 2022. The cosmetics will be available across all platforms: Epic Games Store, PlayStation 4, PlayStartion 5, Xbox and Nintendo Switch.