Fallout 76 Subscription Service Fallout 1st Has Fans Heated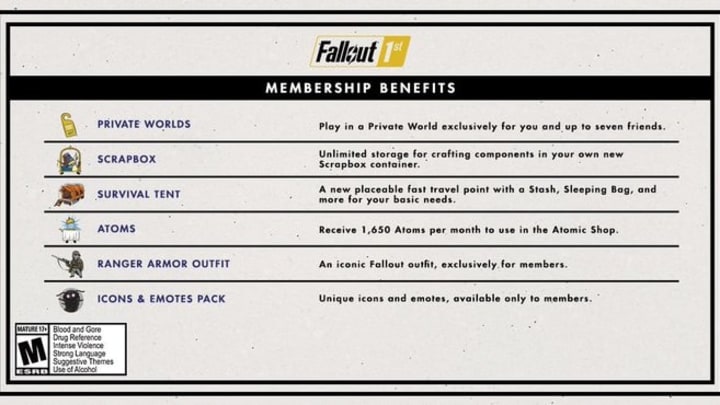 A Fallout 76 subscription service known as Fallout 1st was announced Wednesday, and fans are not happy with developer Bethesda.
Fallout 1st, according to Bethesda, is, "a premium membership that offers something players have been asking for since before launch: private worlds for you and select friends. In addition to this huge feature, Fallout 1st also includes a host of exclusive items and membership bonuses, all of which you can find detailed below."
One key word in the announcement has Fallout 76 players furious: premium.
Fallout 76 Subscription Service Has Fans Heated
A driving factor behind the subscription service are private worlds and servers, something fans have wanted since release. Now, Bethesda has added it but behind a paywall.
There are two subscription models available:
One Month - $12.99
One Year - $99.99
Fallout 76 Ranger Armor: Fallout 1st Membership Benefits
Here's everything included in the Fallout 1st membership:
Private Worlds - play with up to seven friends in a Private World
Scrapbox - Unlimited storage for crafting components
Survival Tent - A new placeable fast travel point
Atoms - Receive 1,650 Atoms per month
Ranger Armor Outfit - An iconic Fallout outfit exclusive for members
Icons and Emotes - Unique icons and emotes exclusive for members
Fallout 1st is now available in Fallout 76.
Photo courtesy of Bethesda