Far Cry 6 Release Date Revealed in Gameplay Debut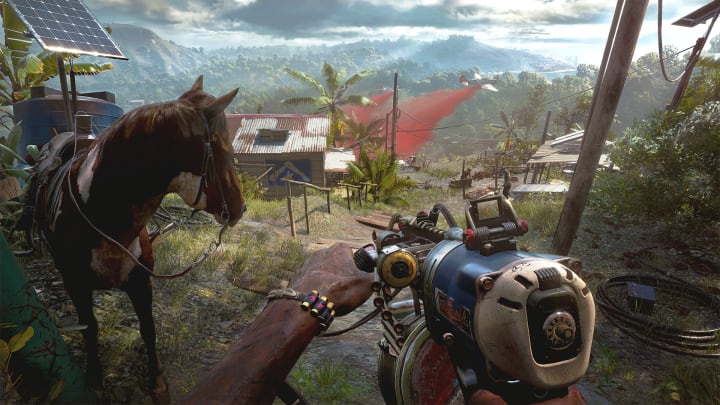 Far Cry 6 includes horseback riding and improvised weaponry. / Photo courtesy of Ubisoft
Ubisoft debuted Far Cry 6 gameplay Friday alongside the game's release date reveal. The game arrives on Oct. 7, 2021.
The gameplay reveal trailer introduced players to Dani Rojas, an orphan and military dropout who initially hopes to escape the Caribbean island of Yara. When a tragedy radicalizes her, she realizes the only way out is revolution and joins up with the rebels trying to overthrow the oppressive regime led by Antón Castillo (played by Giancarlo Esposito).
Far Cry 6 Release Date Revealed in Gameplay Debut
Players can play Dani as a man or a woman, and can customize her appearance. They can also customize a diverse array of DIY vehicles and weapons, including a gun that plays CDs before it launches them as deadly discs.
Veteran revolutionary Juan Cortez will help teach Dani the ropes of revolution, introducing her to these various improvised weapons and modifications. He's also responsible for the Supremo backpack, which by turns launches mortars, fuels a flamethrower, and serves as a jetpack.
The Far Cry series' many hallmarks are here: optional stealth, a wide open and vibrant world, gruesome takedowns, and twisted villains all show up in the trailer. Players on PC and consoles will have to wait another few months before they find out if it lives up to its predecessors.