Far Cry 6 Unique Weapons: Full List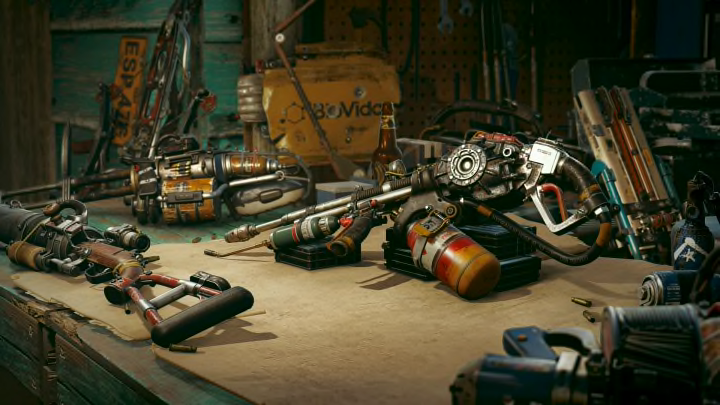 We've compiled a short list of the wackiest weapons available for players to wreak havoc with in Far Cry 6. / Photo of Ubisoft
We've compiled a list of all the unique weapons available for players to wreak havoc with in Far Cry 6.
Although many of the regular weapons you can buy or find in caches around Yara can be just as good as unique weapons, it is worth mentioning that there are an absolute ton of guns with special names in the game. Whether they're unlocked via completing missions, meeting milestones, buying DLC or simply hiding in a sneaky spot around the map, here is a list of all the unique weapons in Far Cry 6.
Far Cry 6 Unique Weapons: Full List
Pistols
Blooddrunk (1911)
The Autocrat (PMM)
Lethal Dose (P226)
El Florecer (Mark VI)
El Regalo De Clara
Pistola Sportiva (M9)
Auto-Pistols
Rococo Loco (6P13-Auto)
El General (Skorpion)
Snapshot (SMG-11)
AJM-9
Rifles
Death Rites (AK47)
F*ck Anton (AK47)
Viva Libertad (FAL)
Camo Quinceanera (M16A1)
Sharkbite (MS16-L)
Noblesse Oblige (SKS)
One Ping Only (AS VAL)
Vaya Con Dios (BP-RUC)
Surf & Turf (MS16-L)
Hi-Fi (SSGP-58)
Urushi (AR-C)
Zona-51 (BP-2)
SMGs
Iron Curtain (BP-SMG)
Turn of the Century (BZ19)
Carriage Carnage (MP34)
Streamline Moderne (MP40)
DIY Death (MP5-K)
SMG-Issimo
The Heroic End (PPSH-41)
LMGs
Sink or Swim (RPD)
Impact Driver (MG42)
Crackle & Pop (MG21)
Sniper Rifles

El Depredador (.308 Carbine)
Sobek Special (.308 Carbine)
Double Clutch (Yaran SR-A)
El Tirano (MBP.50)
The Transubstantiator (SVD)
Kobracon
Shotguns
Humidora (1887 Sawed-Off)
El Rubi (M133)
Ciervo Macho (SBS)
The True Loyalist
Excavation Execution (KSG)
Supercharger (SPAS-12)
COM.PEW.TER (RM8-18)
Bows
Bullseye (Compound Bow)
El Capirote (Recurve Bow)
Launchers
La Guaracha (RPG-7)
El Caballero (MGL-6)
La Petite Mort (M-79)
Into Orbit
For more on Far Cry 6, feel free to check out our guides on the three best bows and three best rifles in the game.