Top Games
Fastest Way to Get XP MLB The Show 22: Best Stadiums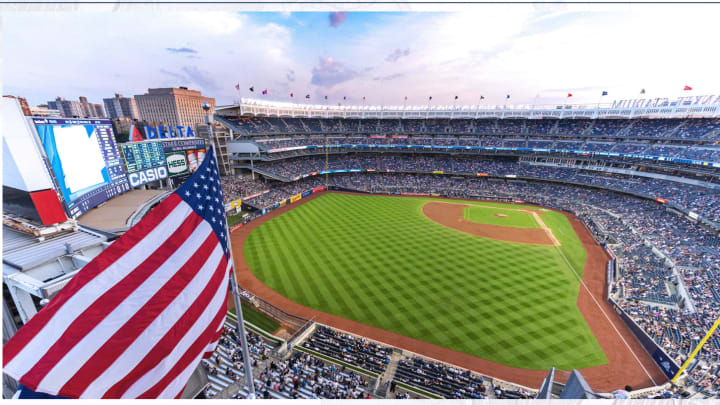 Yankee Stadium / Photo Courtesy of MLB.com
Grinding programs has become very common in MLB The Show 22. When new content gets dropped and players want those cards immediately.
There are several different ways to grind for XP. No matter which method you choose, you're going to need a stadium — a hitter-friendly stadium.
For this list, we are only going to include Major League, Minor League and Classic Stadiums. No created stadiums will be listed.
Fastest Way to Get XP MLB The Show 22: Best Stadiums
There are a couple of factors that we must discuss before we start the list. We must take into consideration the distance to the fence and the overall stadium elevation.
Polo Grounds
Polo Grounds / Photo Courtesy of Bronx Pinstripes
Dimensions:

Left Field Line: 279 feet

Left-center: 450 feet

Center: 483 feet

Right-center: 449 feet

Right Field Line: 258 feet
Polo Grounds is one of the most notorious stadiums in MLB The Show history. It is practically impossible to hit a home run to center field. Meanwhile, balls that are normally fly balls, turn into home runs down the line. The reason why Polo Grounds makes this list is because of the ability to hit extra bases. No matter how slow the player, a ball in the gap at Polo Grounds turns into at least a triple.
Coors Field
Coors Field / Photo Courtesy of Denver.org
Dimensions:

Left Field Line: 347 feet

Left-center: 390 feet

Center: 415 feet

Right-center: 375 feet

Right Field Line: 350 feet
Coors Field doesn't have the shorter fences like some other stadiums. In its place, it has elevation. Coors Field is located right in the middle of Denver, known for its elevation which is just under a mile. Both in real life and in MLB The Show, baseballs fly at Coors Field because of this elevation. If you want to crush home runs over the fence as your method of grinding XP, Coors Field is perfect for you.
BayFront Stadium
BayFront Stadium / Photo Courtesy of the City of Pensacola
Dimensions:

Right Field: 325 feet

Center Field: 400 feet

Left Field: 335 feet
BayFront Stadium is the first and only minor league stadium to make this list. BayFront Stadium is home to the Pensacola Blue Wahoos, a Miami Marlins affiliate. Besides the fact that BayFront is a beautiful stadium to play at, it also has great dimensions. Only about 330 feet down both lines and only 400 feet to center, you can hit a lot of home runs here.