FaZe Among Us Tournament Leaderboard: Final Results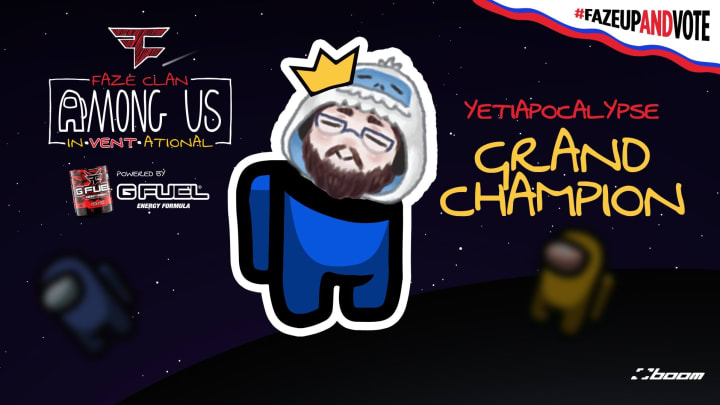 The Faze Among Us tournament leaderboard shows Yetiapocalypse on top of the heap. / Photo by FaZe/InnerSloth
FaZe's Among Us tournament brought 40 top content creators and streamers together to compete in the cleverly titled "In-vent-ational." Here's how scoring worked, and who came out on top after several hours of competition.
FaZe Among Us Tournament Leaderboard: Final Results
As crewmate, players earned 4 points for winning the round and two points for voting correctly. They received no points for a loss or a voting abstention, and they lost a point for voting incorrectly. As imposter, players received five points for winning and one point for each kill. They also weren't penalized for a loss.
40 streamers competed in the tournament:
CouRageJD
Bella Poarch
Adept
Bronny James
ChrisO2
Adapt
FaZe Apex
FaZe Blaze
FaZe Cizzorz
FaZe H1ghSky1
Andrea Botez
FaZe Nate Hill
GeorgeNotFound
ItsSlikeR
jakenbakeLIVE
Jellypeanut
Karl Jacobs
LazarBeam
Ludwig
mrfreshasian
Muselk
m0xyy
Nick Eh 30
Punz
Sweet Anita
SypherPK
Tarik Cohen
Tee Grizzley
Trainwrecks
xQc
Deansocool
EasyRod
Masterfiend
Wolfabelle
Yetipocalypse
100T Avalanche
100T Classify
100T Froste
4Connor
5uppp
After four rounds, streamer Yetiapocalypse came out on top with 52 points. Only the top 10 competitors appeared on the official scoreboard at the end of the broadcast. Find them, and their prize money, here:
Yetiapocalypse – 52 points – $12,000
5uppp – 46 points – $8,000
Punz – 41 points – $2,500
Classify – 37 – $2,500
EasyRod – 35
Yassuo – 35
jakenbakeLIVE – 35
Trainwreckstv – 34
Deansocool – 32
Ludwig – 23