FaZe Pamaj Reveals Top-Tier Viable Vanguard Kar98k Warzone Loadout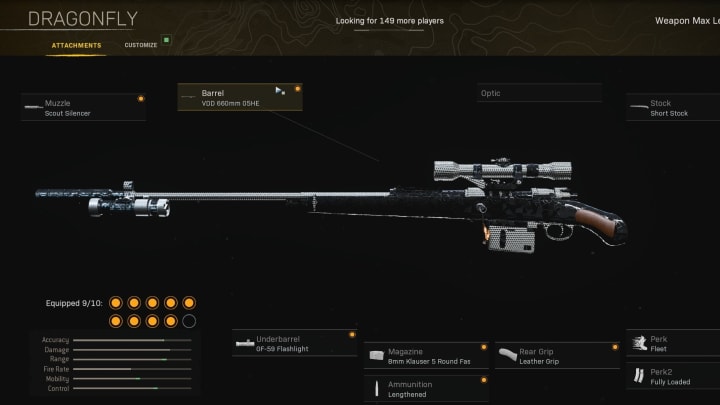 Image courtesy of Pamaj
Among the early takeaways commonly found with the launch of the Warzone Pacific era, from its heartbeat sensor nerf seemingly not being enough to the added delay to loadout drops being more annoying than refreshing, has been that the Call of Duty: Vanguard snipers just aren't that good.
For those looking to use one of the new sniper rifles, however, it appears FaZe Pamaj has cracked the code with his Vanguard Kar98k class.
As posted by Warzone content creator FaZe Pamaj on Twitter on Friday, this Vanguard Kar98k appears to be pretty similar, if not as good as its top-dog Modern Warfare counterpart.
Getting headshot knocks in his signature smooth, aggressive fashion, Pamaj soon revealed the attachments for his Vanguard Kar98k loadout after receiving requests from other well-known players in the community.
Muzzle: Scout Silencer
Barrel: VDD 660mm 05HE
Underbarrel: GF-59 Flashlight
Magazine: 8mm Klauser 5 Round Fast Mags
Ammunition: Lengthened
Rear Grip: Leather Grip
Stock: Short Stock
Perk 1: Fleet
Perk 2: Fully Loaded
While in action, the Vanguard Kar98k doesn't seem quite as fast as the Modern Warfare version or the Black Ops Cold War Swiss K31, it definitely seems like the best of the World War II snipers at the moment.
Pamaj has always been one of the most aggressive snipers in the Call of Duty scene, and this class definitely reflects that.
With the Short Stock, Leather Grip, Fleet, players are going to be maneuver much faster than usual with this setup, while the Scout Silencer muzzle, VDD 660mm 05HE barrel, and Lengthened ammunition upgrades appear primed to help the gun pack as much of a punch as possible.