FaZe Swagg Reveals His Perfect Close-Range Warzone Loadout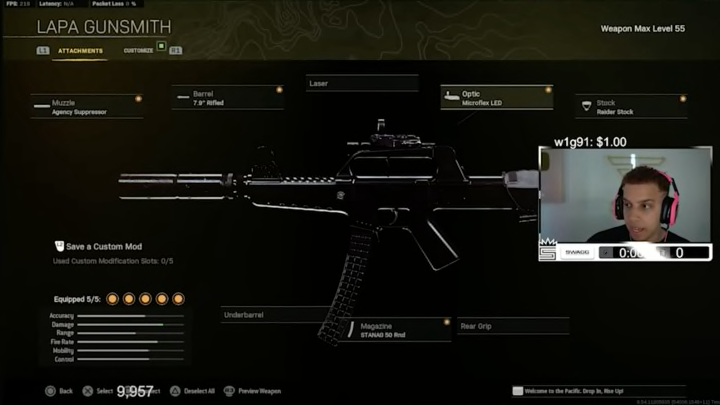 Image courtesy of Swagg/Activision
FaZe Swagg has detailed his ideal LAPA SMG set up for those great close-range plays in Call of Duty: Warzone.
Warzone players are always on the hunt for the next best thing. Following a series of nerfs to the fan-favorite MP40, many have been looking ahead at which SMG could become the next meta. Thanks to a few well-constructed loadouts, it looks as though the LAPA is a great contender.
At least, that's what FaZe Swagg has shown. With the right attachments, this weapon can turn into quite the beast dealing heavy damage at an incredible pace.
FaZe Swagg's LAPA Warzone Loadout Detailed
In a recent stream, Swagg gave fans a quick look at his LAPA loadout, which includes the following attachments:
Muzzle: Agency Suppressor
Barrel: 7.9" Rifled 
Optic: Microflex LED
Stock: Raider Stock 
Magazine: STANAG 50 Rnd
"There's a reason why a lot of these TikTokers are rocking this gun," Swagg said during the stream.
For SMGs, you'll want to focus more on the damage output and TTK. Getting up close and personal with your opponents means you'll want to take them down as soon as possible. This LAPA loadout certainly helps with that, increasing the damage range and rate of fire.
If you're looking for your next go-to SMG loadout, this is probably the one for you. Give it a try next time you hop into Warzone.