FaZe Swagg Shows Off New "Fastest Killing SMG" MP-40 Build in Call of Duty: Warzone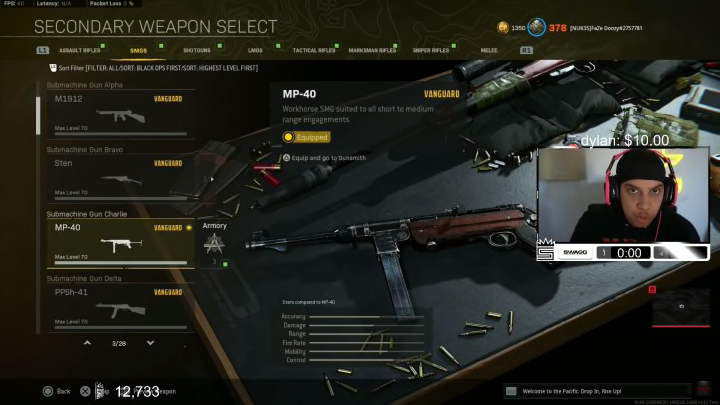 FaZe Swagg, one of the most popular Call of Duty: Warzone streamers and content creators, has come up with an MP-40 kill with an impressive TTK. / Activision, FaZe Swagg
FaZe Swagg, one of the most popular Call of Duty: Warzone streamers and content creators, has come up with an MP-40 kill with an impressive TTK.
Adding to the list of new builds in Call of Duty (COD): Warzone Pacific Season One is FaZe Swagg's new overpowered MP-40. In a new video uploaded to his YouTube channel on Sunday, Dec. 26, Swagg explained that he put together a new "FIRE MP40" loadout that may be the "fastest killing SMG" in the game. The MP-40 is already a popular choice in Warzone so his claim begs the question: what could be added to make it stand out even more?
The secret? According to Swagg, it has to do with an ammunition type initially introduced in World War II.
Swagg Shows Off MP-40 Build Using Incendiary Ammo
Swagg's MP-40 loadout is as follows:
Ammo Type: Incendiary
Barrel: Krausnick 317mm 04B

Magazine: 7.62 Gorenko 45 Round Mag|
Muzzle: Recoil Booster
Perk: Unmarked
Perk 2: Fully Loaded
Rear Grip: Polymer Grip
Stock: Removed Stock
Underbarrel: m1941 Hand Stop
For those counting attachments—there's no need to double-check. This build only uses nine out of the 10 available slots leaving the Optic open as either up to player discretion or simply to be kept empty. Given that most SMGs are kept at close to mid-range, an Optic addition may be unnecessary and only serve to slow players down.
When showing the class build at the end of the video, Swagg goes into detail about how Incendiary rounds work and why they're so important to the build. Essentially, this ammunition type inflicts damage over time (DOT) by burning players continually after they've stopped absorbing bullets. This means enemies aren't safe—even after disengaging from a fight.
The results speak for themselves.