FaZe Swagg Unveils New AS44 Hipfire Build With 'Perfect Accuracy'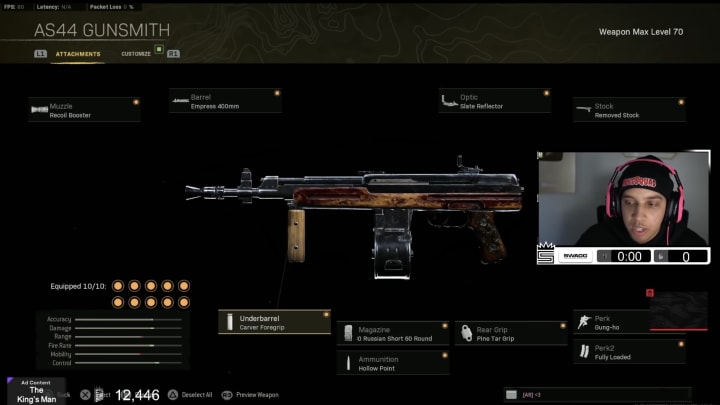 FaZe Swagg, a major content creator for Call of Duty (COD): Warzone revealed a new loadout for the AS44 that gives the gun perfect accuracy. / FaZe Swagg, Activision
FaZe Swagg, a major content creator for Call of Duty (COD): Warzone, has revealed a new loadout for the AS44 that gives the gun perfect accuracy.
Swagg discussed the build in a new video uploaded to his YouTube channel on Dec. 22, calling it "new close range meta" in COD Warzone Pacific Season One. He compared it to the MP5 hipfire build from Modern Warfare "on steroids" and called it one of the most powerful classes in the game right now.
"When I used it on stream, everyone thought I was cheating," he said.
Swagg Reveals "Perfect Accuracy" AS44 Hipfire Build
Swagg's new hipfire build centers on the AS44 assault rifle, turning it into a deadly weapon that fires with impressive accuracy. According to Swagg, when paired with a build that covers long range combat such as the Bren, it has the capacity to dominate any lobby.
Like most powerful Warzone classes, the AS44 hip fire build uses all 10 slots. These are:
Ammunition: Hollow Point
Barrel: Empress 400mm
Magazine: .30 Russian Short 60 Round Mags
Muzzle: Recoil Booster
Optic: Slate Reflector
Perk: Gung-ho
Perk 2: Fully Loaded
Rear Grip: Pine Tar Grip
Stock: Removed Stock
Underbarrel: Carver Foregrip
Swagg showed the build off in the video, demolishing the competition with the weapon to place 10th in the lobby. Throughout the game, it's clear to see how powerful and accurate the build is. There may be some credence to Swagg's claim that the gun will receive a nerf sooner rather than later.
Until then, however, players are encouraged to give it a go whenever they can.