FIFA
Fellaini FIFA 22 Challenges: How to Complete the Rulebreakers Objective
By Max Mallow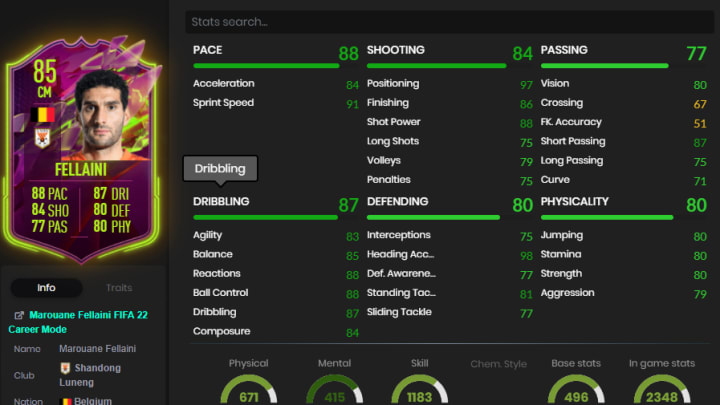 Photo by FUTBIN
Fellaini FIFA 22 challenges were released as Marouane Fellaini received a Rulebreakers item during Team 2.
Rulebreakers has been a positive release among fans considering the promotional items in packs, the Squad Building Challenges and objective items. The latter was relatively lacking until EA Sports dropped a Fellaini objective set. Rulebreakers is an opportunity for EA Sports to turn lower rated players into meta items. Such is the case with this Rulebreakers Fellaini objective set.
Fellaini FIFA 22 Challenges: How to Complete the Rulebreakers Objective
Here's how to complete the Rulebreakers Fellaini objective in FIFA 22:
Breaking Out: Score a goal in seven separate matches in the Live FUT Friendly: Break Out!
Forceful Assists: Assist four goals using players with min. 75 physicality in the Live FUT Friendly: Break Out!
Midfield Finishers: Score three goals using midfielders in the Live FUT Friendly: Break Out!
Belgian Blend: Win four matches while having at least one Belgian player in your starting squad in the Live FUT Friendly: Break Out!
Completing each objective will award players packs and some needed experience toward completing the Season 1 pass. Fellaini is pretty difficult to link outside of Belgian players considering he plays in the Chinese FA Super League. But, if you have the necessary links, this is a nice item to add to your collections for free.
Rulebreakers Fellaini was released alongside a Flashback Mahrez SBC.