Fifa 20 June Twitch Prime Pack: How to Claim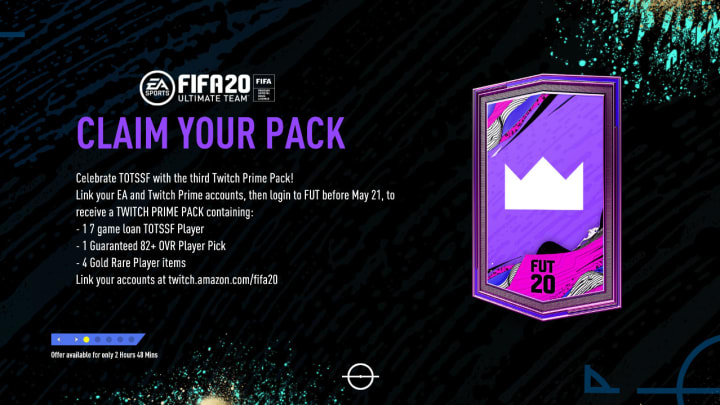 FIFA 20 June Twitch Prime Pack is coming out soon as the next gift as a result of the Twitch Prime and FIFA Ultimate Team collaboration. / Photo courtesy of EA Sports
FIFA 20 June Twitch Prime Pack is coming out soon as the next gift as a result of the Twitch Prime and FIFA Ultimate Team collaboration.
Each month, eligible players were able to receive a Twitch Prime Pack. In the May edition, players could get a loan TOTSSF player alongside the standard player pick and four Gold Rare player items.
Here's everything we know about the June Twitch Prime Pack:
Fifa 20 June Twitch Prime Pack: How to Claim
The FIFA 20 June Twitch Prime Pack can be claimed by players who are also Twitch Prime members.
A Twitch Prime membership comes free with an Amazon Prime account. Players will either be using their free trial with Amazon Prime or paying.
Amazon Prime cost per month is $12.99 (or $119 per year). Players could also opt for the Prime Video option of $8.99 per month.
Players must link their accounts before being eligible to claim the pack. On the FIFA loot section on Twitch, players can start the process by clicking "claim now". The steps are easy to follow and quickly, players accounts will be linked.
FIFA 20 June Twitch Prime Pack includes:
One (1) out of four (4) player pick - 83+ rated player
Five (5) Rare Gold players
On the website, there is still two more FIFA Twitch Prime Packs yet to be released. They are most likely to be released in July and August.
With TOTSSF ending and Summer Heat starting tomorrow, players will still be busy. Professional leagues are starting back up with TOTW meant to be coming out soon. Due to the circumstances, EA Sports and FIFA will have much more content this Summer compared to any other.