FIFA 20 Liga NOS TOTSSF Guaranteed SBC: How to Complete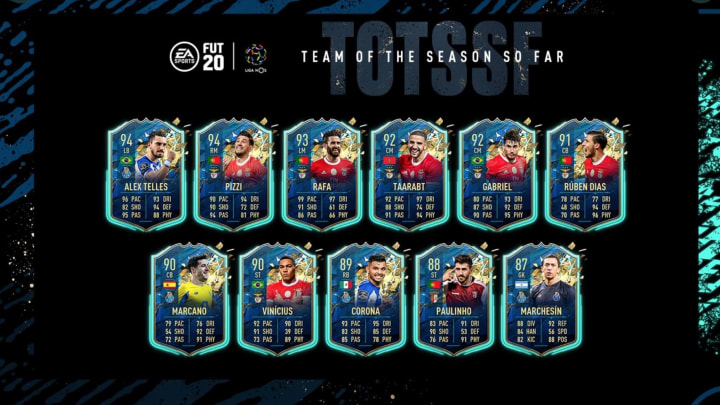 Complete the Liga NOS TOTSSF Guaranteed SBC to receive a star card from the Portuguese league. / Photo by EA Sports
FIFA 20 Liga NOS TOTSSF Guaranteed SBC was released Wednesday. The reward for completing the SBC is an untradeable Liga NOS TOTSSF player.
The SBC is a part of the TOTSSF promotion, which took the place of the TOTS promotion from past editions of FIFA. The promotion itself has not changed, but it has been released earlier than normal this year because many leagues were either cancelled or suspended because of the coronavirus pandemic.
FIFA 20 Liga NOS TOTSSF Guaranteed SBC: How to Complete
Here's how to complete the Liga NOS TOTSSF Guaranteed SBC:
One Segment
Min. Team Rating: 83
Min. Team Chemistry: 80
Number of Players in the Squad: 11
The SBC costs about 40,000 coins to complete, according to FUTBIN. It expires at 1 p.m. ET on Thursday.
Every single person who plays Ultimate Team should complete this SBC. The requirements to complete it are so easy and cheap that nearly every player in the Liga NOS TOTSSF squad will be worth it as a reward.
Even though it's not one of the five major Eruopean leagues, Liga NOS came through with a really good TOTSSF suqad this year. There's a lot of pace in the squad, which is always a bonus, and even the slower players are fast for their position. Basically any player except for Paulinho and Augustín Marchesín are worth keeping on the bench at least.
For players who are unhappy with their reward, the card will be very useful for future SBCs. TOTSSF players will be a requirement for most TOTSSF Guaranteed SBCs, so even Ultimate Team players who won't play with their reward card should complete this SBC.
The Liga NOS TOTSSF Guaranteed SBC was released simultaneously with the Bundesliga TOTSSF Guaranteed SBC.