FIFA 20 Saudi League TOTSSF Guaranteed SBC: How to Complete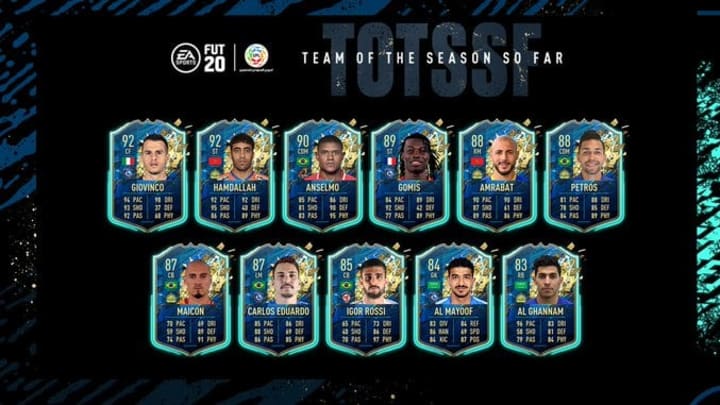 The FIFA 20 Saudi Pro League Team of the Season So Far squad. / Photo by EA Sports
FIFA 20 Saudi League TOTSSF Guaranteed SBC was released Wednesday as fans have a guaranteed pack toward a Saudi Pro League Team of the Season So Far player.
FIFA 20 Team of the Season So Far is the biggest promotion of the FIFA Ultimate Team cycle featuring the most content released in a single promotion. EA Sports releases special cards for each league showcasing the best performing players from the entire season. FIFA 20's promotion was altered amid the COIVD-19 pandemic putting leagues on pause, but the content remains similar and familiar for fans.
EA Sports released the guaranteed SBC packs for the Saudi Pro League and Premier League on Wednesday.
Here's how to complete the FIFA 20 Saudi Pro League Guaranteed SBC:
One Segment
Squad Rating: 83
Team Chemistry: 70
# of Players in the Squad: 11
Here's a full list of the players available in the Saudi Pro League Guaranteed SBC pack:
Sebastian Giovinco - 92
Abderrazak Hamdallah - 92
Anselmo - 90
Bafetimbi Gomis - 89
Nordi Ambrabat - 88
Petros - 88
Carlos Eduardo - 97
Maicon - 87
Igor Rossi - 85
Abdullah Al Mayoof - 84
Al Ghannam - 83
The only cards worth pulling are really just Giovinco and Anselmo. Players might end up using this SBC to fund and cut down the price of the Premier League TOTSSF Guaranteed SBC.
The Saudi League TOTSSF Guaranteed SBC expires Friday at 1 p.m. ET.