FIFA 20 TOTW Moments: Everything You Need to Know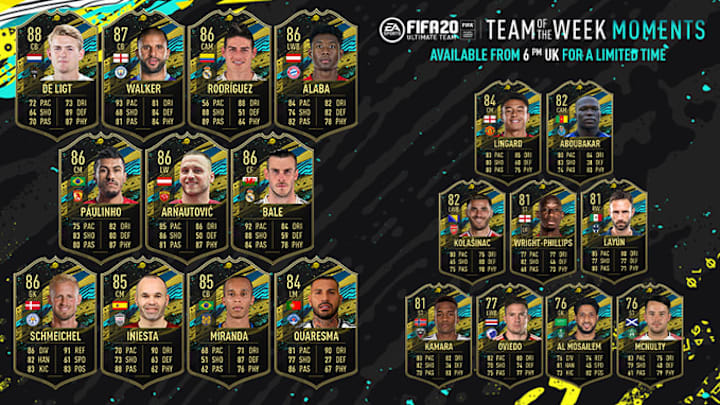 FIFA 20 TOTW Moments were revealed Wednesday as a new promotion in place of the traditional Team of the Week.
Here's everything you need to know about the new FIFA Ultimate Team promotion.
FIFA 20 TOTW Moments: Everything You Need to Know
EA Sports will release TOTW Moments cards each Wednesday based on cards that were featured in a TOTW in past FIFA titles. These cards will follow the FIFA 20 upgrade path, meaning they won't be completely indicative of past cards.
These cards will upgrade Headliner and Ones to Watch items which is sure to have an impact on the FUT transfer market.
"Following the suspensions of the Premier League, Bundesliga & Ligue 1 last Friday, in addition to La Liga, Serie A and several other leagues across the world, we have taken the decision to suspend our normal Team of the Week (TOTW) program. When thinking about a replacement for TOTW, we wanted to build something that is authentic to football and that is compatible with TOTW if we are able to reintroduce it later in the year. Today, we are introducing the Team of the Week Moments and explaining some changes that you will see in game," EA Sports said in its announcement.
TOTW Moments will make up the following, according to EA Sports:
In packs
Weekly Featured Squad Battle within Squad Battles
Future FUT Objectives
Draft Mode