FIFA 21 Best Attackers: 5 Best Forwards Released in October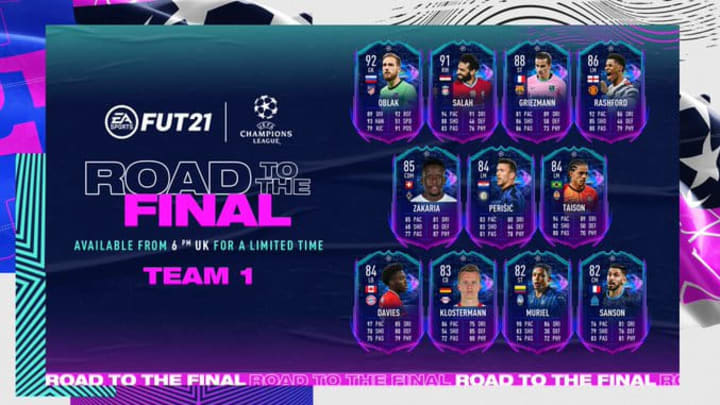 Photo by EA Sports
FIFA 21 best attackers released in October made their mark early on in Ultimate Team.
EA Sports released two promotions in October for FIFA 21 despite a delayed release amid the COVID-19 pandemic. Ones to Watch and Rulebreakers were both a bit disappointing from a content perspective, but there were some good cards released regardless.
Here are the five best attackers released in October in FIFA 21 Ultimate Team.
FIFA 21 Best Attackers: 5 Best Forwards Released in October
5.

Inaki Williams - ST / Athletic Bilbao - Rulebreakers
Real Valladolid CF v Athletic Club - La Liga Santander / Gonzalo Arroyo Moreno/Getty Images
Inaki Williams was part of the Rulebreakers promotion as a player pick SBC. Players chose between an item with boosted dribbling or shooting. Players favored the dribbling item and he's been a staple in FUT Champions teams.
4.

Timo Werner - ST / Chelsea - TOTW 4
Chelsea v Sheffield United - Premier League / Mike Hewitt/Getty Images
Timo Werner's first in-form was released alongside the top entry in this list. While Werner has his downsides in FIFA, this card is still a monster. They don't call him Werner the Burner for nothing in FUT.
3.

Dries Mertens - CF / Napoli - Rulebreakers
Bologna FC v SSC Napoli - Serie A / Alessandro Sabattini/Getty Images
Dries Mertens was the most popular attacker in the first Rulebreakers team. Rulebreakers replaced Ultimate Scream as the late October promotion moving around players stats to change how they operate in the meta. Mertens also hard links to the special Radja Nainggolan item from the team.
2.

Ansu Fati - LW / Barcelona - La Liga POTM
FC Barcelona v Dynamo Kyiv: Group G - UEFA Champions League / Quality Sport Images/Getty Images
Ansu Fati received the first La Liga Player of the Month item in FIFA 21. Coming in around 150,000 coins to complete from scratch, many completed this card because of its high pace, good shooting and passing. He also hyper links to Jordi Alba so players don't have to worry about chemistry.
1.

Marcus Rashford - ST / Manchester United - TOTW 4
Everton v Manchester United - Premier League / Clive Brunskill/Getty Images
Marcus Rashford's striker in-form is the best attacker released in October. The card costs 780,000 coins. The item doesn't have a major upgrade compared to his gold card, but it's a central based item making it more valuable. He's got the skill moves, pace and finishing to be a top attacker in the game.