FIFA
FIFA 21 Future Stars Party Bag: How to Complete
By Max Mallow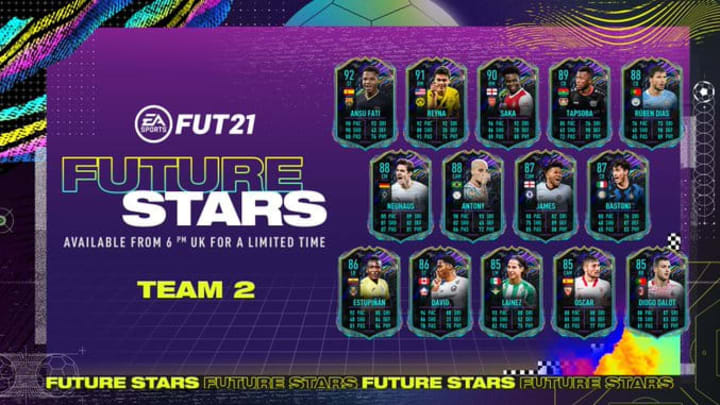 Photo by EA Sports
FIFA 21 Future Stars Party Bag was released Feb. 15 as the Future Stars promotion starts to wind down in its final week.
Party Bags are a popular Squad Building Challenge pack released at multiple times throughout a FIFA Ultimate Team cycle. These packs are guaranteed packs containing a special player from a previous promotion. In the past, EA Sports only included two or three promotions in one Party Bag SBC, but the FIFA 21 packs have contained every previous promotion.
FIFA 21 Future Stars Party Bag: How to Complete
Here's how to complete the FIFA 21 Future Stars Party Bag SBC:
One Segment
Team of the Week Players: Min. 2
Squad Rating: 84
Team Chemistry: 75
# of Players in the Squad: 11
The Party Bag SBC contains players from the following promotions in FIFA 21:
Ones to Watch
Rulebreakers
UEFA Road to the Final
Record Breakers (Black Friday)
FUT Freeze
Headliners
Future Stars
It's a wide pool of players available and there are definitely some stinkers to be packed. On the other hand, there are big name players like Kylian Mbappe, Bukayo Saka, Bruno Fernandes and more available in this pack.
Expect EA Sports to release more Party Bag SBCs throughout the course of Future Stars.