FIFA
FIFA 21 Icon Swaps 2: How to Complete Each Swap Objective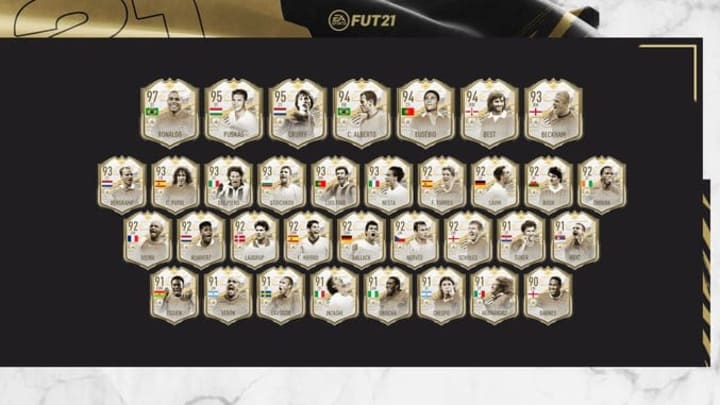 FIFA 21 Icon Swaps 2 released Feb. 19 and fans weren't too happy with the content drop from EA Sports.
Icon Swaps has been a controversial promotion since its inclusion in FIFA 20. The promotion in theory is a good idea: give fans a free-to-play way to earn Icons. The execution is where the criticism comes from. First, the Icons available through Swaps leaves much to be desired. Sometimes EA Sports chooses the high-end Icons to be part of the event, but they'll usually require numerous hours of tedious gameplay. Secondly, the objectives are just that: tedious.
Regardless, there's nine new tokens to earn during the first part of Icon Swaps 2.
FIFA 21 Icon Swaps 2: How to Complete Each Swap Objective
Here's how to earn the first nine Icon Swaps 2 tokens in FIFA 21:
Icon Swaps Serie A - 1 Token
Win six matches in Live FUT Friendly: One League, with at least eight first owned Serie A players in the starting squad
Score in 10 separate matches using Serie A players in Live FUT Friendly: One League, with at least eight first owned Serie A players in the starting squad
Assist with a through ball in five separate matches using Serie A players in the Live FUT Friendly: One League, with at least eight first owned Serie A players in the starting squad
Icon Swaps La Liga - 1 Token
Same three objectives as the Serie A section, except it's eight first owned La Liga players
Icon Swaps Ligue 1 - 1 Token
Same three objectives as the Serie A section, except it's eight first owned Ligue 1 players
Icon Swaps Squad Battles - 3 Tokens
Win six Squad Battles matches on min. World Class difficulty with 11 Silvers in your starting squad
Win six Squad Battles matches on min. World Class difficulty with 11 UCL players in your starting squad
Win six Squad Battles matches on min. World Class difficulty with 11 CSL players in your starting squad
Icon Swaps Weekend League - 1 Token
Win 18 Weekend League games
Icon Swaps One Nation - 2 Tokens
Win seven matches in the Live FUT Friendly: One Nation playlist, with only Spanish players

Win seven matches in the Live FUT Friendly: One Nation playlist, with only Italian players