FIFA 21 Ones to Watch Team 1 Revealed; Enters Packs Oct. 9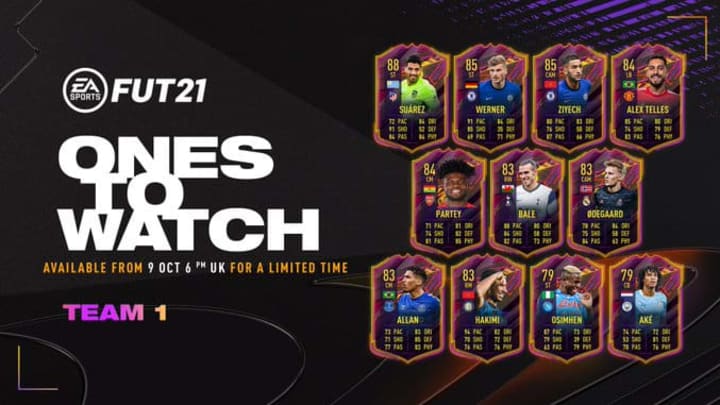 The first Ones to Watch team in FIFA 21 Ultimate Team. / Photo by EA Sports
FIFA 21 Ones to Watch Team 1 was revealed Oct. 8 a day ahead of it entering packs as the first Ultimate Team promotion of the year.
Ones to Watch is traditionally the first Ultimate Team promotion each year introducing live items for players that have transferred clubs ahead of the new season. These live items upgrade throughout the year as the players receive performance based upgrades like Team of the Week and Man of the Match cards.
EA Sports announced Ones to Watch would feature two promotional teams, each in packs at a certain time while a brief period would feature both at the end of the promotion.
FIFA 21 Ones to Watch Team 1 Revealed; Enters Packs Oct. 9
Here's a full list of the players including in Ones to Watch Team 1:
Luis Suarez - 88 ST - Atletico Madrid
Timo Werner - 85 ST - Chelsea
Hakim Ziyech - 85 CAM - Chelsea
Alex Telles - 84 LB - Manchester United
Thomas Partey - 84 CM - Arsenal
Gareth Bale - 83 RW - Tottenham Hotspur
Martin Odegaard - 83 CAM - Real Madrid
Allan - 83 CM - Everton
Achraf Hakimi - 83 RM - Inter Milan
Victor Osimhen - 79 ST - Napoli
Nathan Ake - 79 CB - Manchester City
The team includes most of the major high profile transfers from the latest transfer window. One of the most notable misses who will probably be in Team 2 is Leroy Sane moving to Bayern Munich. Regardless, there are top options players should be excited with for Premier League squads. Allan, Bale, Telles, Werner and Partey are all great options.
FIFA 21 Ones to Watch Team 1 releases Oct. 9.