FIFA 21 Showdown: How Does it Work?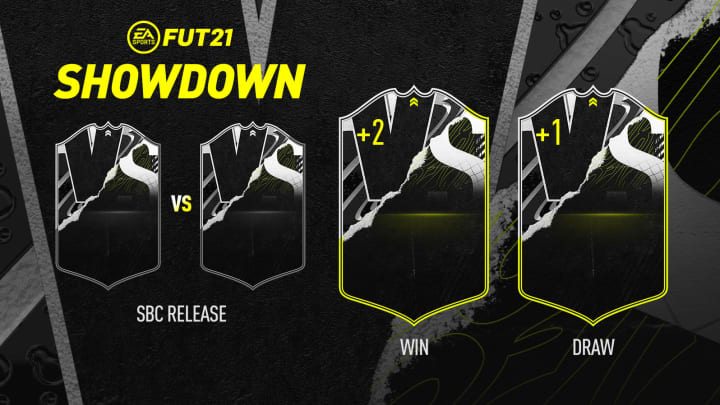 EA have released the new Showdown promotion in FIFA 21 / Photo by EA Sports/FIFA
The gifts just keep on giving this time of year as EA Sports have released a new promotion into FIFA 21's Squad Building Challenges hub. Here is what we know about the new FIFA 21 Showdown event.
FIFA 21 Showdown: How Does it Work?
Showdown is a relatively new promotion that EA Sports introduced last summer in FIFA 20. For this event, EA selects two players whose teams are due to face each other in a real life football match and puts them in the SBCs channel. The trick with these cards is, depending how the result of these matchups, one of those cards could see themselves receiving a massive stats boost.
To put it in simpler terms, if one player's team wins the match then their rating will be increased by two, and the losing player will receive diddly squat. If however the match ends in a draw, then both players' cards will increase by one. This means that, although both players will be available in the SBCs hub, FIFA gamers will need to be careful about which one they want to go for, as we won't know who receives the stat boost until after 90 minutes of regular time.
The first two players currently active in the SBCs tab are Francis Coquelin of Villarreal C.F and Marcos Acuna of Sevilla F.C.
Players will only have around 24 hours to complete these challenges so if you are looking to get some possibly high value players in your club then we suggest you get going on them.