FIFA
FIFA 22 Adidas Numbers Up Promo: Everything you Need to Know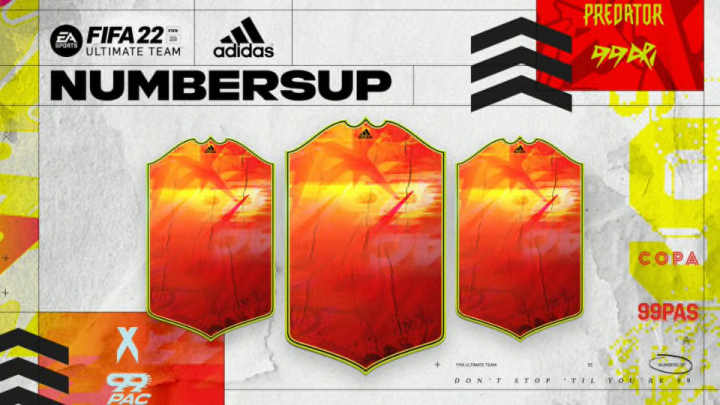 The FIFA 22 Numbers Up Promo is live, and a full team of players is available in packs, objectives and SBCs to celebrate the promotion. / Photo Courtesy of EA SPORTS
The FIFA 22 Numbers Up Promo is live, and a full team of players is available in packs, objectives, and SBCs to celebrate the promotion.
Here's everything you need to know about the Adidas Numbers Up promotion in FIFA 22.
Adidas Numbers Up FIFA 22: Full Squad
The following players have received upgradeable special items in FUT 22 as part of the Adidas Numbers Up promo:
João Félix (CF, Atletico Madrid: 88 rated)
Marco Asensio (RW, Real Madrid: 85 rated)
Steven Bergwijn (LM, Tottenham: 84 rated)
Mats Hummels (CB, Dortmund: 88 rated)
Declan Rice (CDM, West Ham: 87 rated)
Diogo Jota (LW, Liverpool: 86 rated)
Giovanni Reyna (CAM, Dortmund: 85 rated)
Éder Militão (CB, Real Madrid: 85 rated)
Amadou Diawara (CDM, Roma FC: 84 rated)
Moussa Dembélé (ST, OL: 84 rated)
Reguilón (LB, Tottenham: 84 rated)
Florian Neuhaus (CM, M'Gladbach: 84 rated
Ter Stegen (GK, Barcelona: 91 rated)

Asensio is available as a Squad Building Challenge, and Bergwijn can be picked up in the objectives tab of FUT.
How does the Adidas Numbers Up Players Upgrade?
According to EA SPORTS, the NUMBERSUP Live items will upgrade throughout the season based on the adidas boot players wear on the pitch.
For Hummels, Rice, and Diawara, their passing will upgrade throughout the season for wearing the Adidas Copa boots. Ter Stegen will see a handling boost given to him, and Militão, Asensio and Neuhaus will receive dribbling boosts as the year progresses for wearing the Adidas Predator boots. Finally: João Félix, Jota, Reyna, Reguilón, Bergwijn, and Dembélé will receive pace boosts for wearing the Adidas X boots.
The first upgrade is already applied with the current team, while the second upgrade will automatically apply at the end of December, and the final upgrade will be issued at the end of April.
When does Adidas NUMBERSUP End?
Team one will leave packs in seven days. We should be receiving a second team in a week's time, however EA has yet to confirm.