FIFA
FIFA 22 Bundesliga December POTM: Nominees, How to Vote, Release Date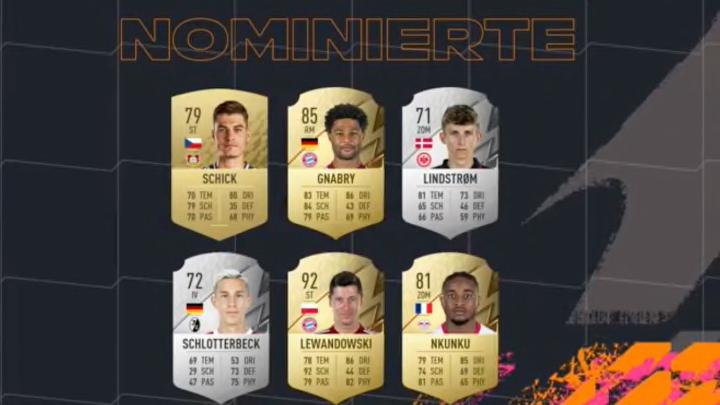 Bundesliga POTM nominees for December / Photo Courtesy of EA Sports
Now that December has come and gone, it is now time to decide on the Bundesliga Player of the Month winner for FIFA 22. There are a few deserving players of the award, but only one can win.
There are six nominees for the Bundesliga POTM for December. Here's how to vote, and when we expect the winning POTM to arrive in FIFA Ultimate Team.
FIFA 22 Bundesliga December POTM: Nominees
The following players have been nominated for the POTM award in the Bundesliga for December.
Lewandowski (ST, Bayern Munich)
Gnabry (RM, Bayern Munich)
Schick (ST, Leverkusen)
Nkunku (CAM, RB Leipzig)
Lindström (CAM, Frankfurt)
Schlotterbeck (CB, SC Freiburg)
Lewandowski and Gnabry performed well for Bayern this past month as they usually do, and Nkunku continues to surprise the Bundesliga with his play, potentially in the running for his second POTM award. Patrick Schick emerged as a rising talent for the Czech Republic this past year, and since he has joined Leverkusen, he has become a prolific scorer, netting 8 goals in December alone. Lindström of Frankfurt and Schlotterbeck of Frankfurt and SC Freiburg, are only silvers in FIFA 22 but played well enough in the Bundesliga to potentially earn their first POTM honors.
FIFA 22 Bundesliga December POTM: How to Vote
You can vote for December's Bundesliga POTM winner by visiting the EA Sports official website, and clicking VOTE NOW.
FIFA 22 Bundesliga December POTM: Release Date
Since the previous Bundesliga POTM SBC for Alphonso Davies Expires on Jan. 13, we can expect the December POTM SBC to come either on Jan. 13 at 1 p.m. ET or on Jan. 14.