FIFA 22: Full Rewards for Icon Swaps 2 Apparently Leaked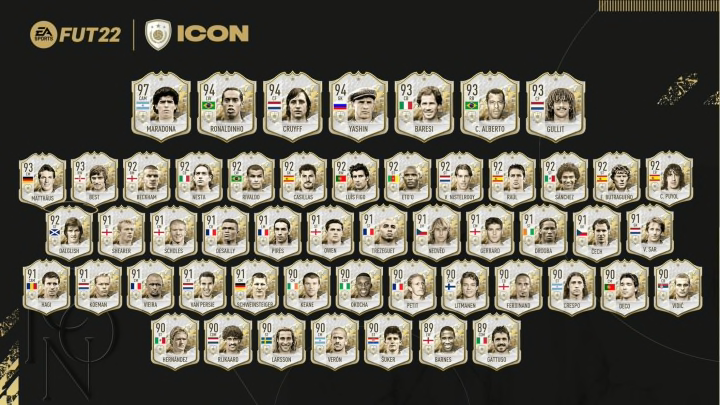 Photo Courtesy of EA SPORTS
According to FutSheriff, the full reward list for the upcoming Icons Swaps 2 in FIFA 22 have been leaked and features plenty of solid pack rewards and Icons to grind for.
If the leaks are true, Icon Swaps 2 will be starting this Monday, Feb. 21. Here is the full leaked list of rewards.
FIFA 22: Full Rewards for Icon Swaps 2 Apparently Leaked
2 tokens: 81x25 Rare Players Pack
3 tokens: 82x25 Rare Players Pack
5 tokens: 83x25 Rare Players Pack
6 tokens: Mid Icon Thierry Henry
7 tokens: Prime Icon Xavi
8 tokens: Prime Icon Pack
9 tokens: Prime Icon Hristo Stoichkov
10 tokens: 91+ Mid/Prime Icon Pack
10 tokens: Moments Icon Steven Gerrard
11 tokens: Prime Icon Marcos Cafú
12 tokens: Mid or Prime Icon Player Pick
13 tokens: 92+ Prime Icon Pack
14 tokens: Moments Icon Fabio Cannavaro
15 tokens: Prime Icon Player Pick
16 tokens: 92+ Prime/Moments Icon Pack
17 tokens: Prime Icon Garrincha
This will be the first introduction to Icon Moments this FIFA if the leaks are true, and will feature some good ones to start. Moments Icon Gerrard would be a great midfielder, and fan-favorite for England and Liverpool fans, while Fabio Cannavaro has been one of the best Icon defenders in FUT over the last few installments of FIFA.
Arguably the biggest part of these rewards is the available packs you can get from Icon Swaps 2. The 81, 82, and 83x25 Rare Player packs are always popular, but the Icon packs available are very good as well, especially with the arrival of Icon Moments cards. Let us know which rewards you plan on grinding for first when Icon Swaps 2 releases.