FIFA 22 FUT Captains Team 2: Full List of Leaked Players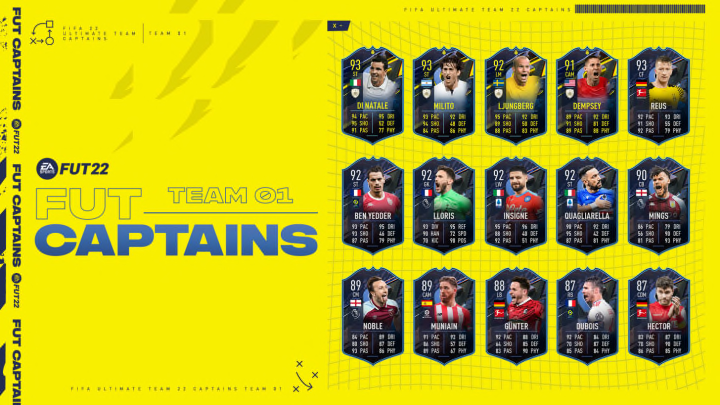 FUT Captains is now live in FIFA 22 Ultimate Team / Photo Courtesy of EA Sports
FUT Captains Team 2 is set to arrive in FIFA 22 on Friday, April 15. Many players in the team have already been leaked, giving us a partial look at who to expect from Team 2.
Here is a full list of the leaked players from FUT Captains Team 2.
FIFA 22 FUT Captains Team 2: Full List of Leaked Players
Joe Cole (FUT Hero Captains, 94 Rated)
Abedi Pelé (FUT Hero Captains, 94 Rated)
Michael Keane (FUT Hero Captains, 92 Rated)
Tim Cahill (FUT Hero Captains SBC, 89 Rated)
Marcelo (LB, Real Madrid, 94 Rated)
Fabien Lemoine (CDM, FC Lorient)
Dmitri Payet (CAM, Marseille, 90 Rated)
James Ward-Prowse (CM, Southampton, 90 Rated)
José Fonte (CB, Lille, 90 Rated)
Christopher Trimmel (RWB, Union Berlin, 88 Rated)
Sergio Busquets (CDM, Barcelona, 92 Rated)
There are likely more players to come that have yet to be leaked, but these players have been confirmed by FIFA 22 leaker FutSheriff on Twitter, as well as cosigned by other leakers such as FifaRomania and DonkTrading. According to FutSheriff, who has been one of the more trusted and popular leakers in the FUT Community for FIFA 22, these cards, with these stats, will arrive Friday.