FIFA
FIFA 22 FUT Hero Shapeshifters Upgrade: How to Complete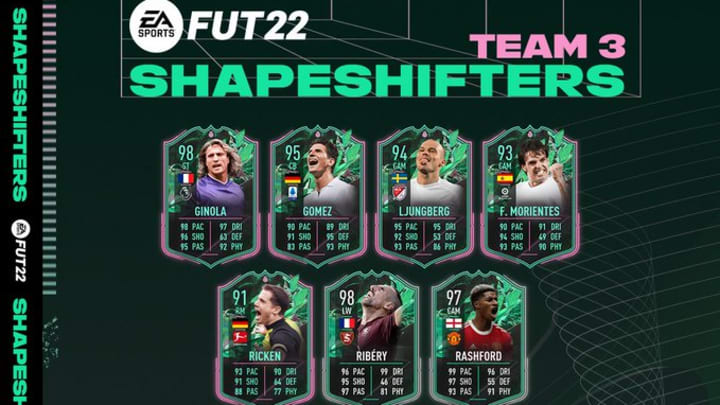 Photo by EA Sports
FIFA 22 Hero Shapeshifters Upgrade SBC went live July 13 during Shapeshifters Team 4 giving fans a guaranteed pack containing a Hero Shapeshifter.
EA Sports has released four Shapeshifters teams during the promotion and included Heroes in the latter half of the event. These new FUT Hero cards replaced base Heroes in packs changing not only their positions, but also the leagues they were originally attached to.
Some items are top tier like David Ginola, while others like Lars Ricken aren't necessarily exciting. Still, EA Sports released a guaranteed SBC pack containing a Hero Shapeshifter player.
FIFA 22 FUT Hero Shapeshifters Upgrade: How to Complete
Here's how to complete the FIFA 22 FUT Hero Shapeshifters Upgrade SBC:
One Segment
Squad Rating: 86
Team Chemistry: 55
# of Players in the Squad: 11
Here's a list of the players you can pack from the SBC:
David Ginola - 98 ST - Premier League
Abedi Pele - 98 LW - Bundesliga
Ivan Cordoba - 97 RB - Serie A
Antonio Di Natale - 97 RW - Serie A
Joe Cole - 96 CAM - Ligue 1
Mario Gomez - 95 CB - Serie A
Freddie Ljungberg - 94 CAM - MLS
Clint Dempsey - 94 LW - Premier League
Tim Cahil - 94 CDM - Premier League
Fernando Morientes - 93 CAM - LaLiga
Jurgen Kohler - 92 CDM - Bundesliga
Lars Ricken - 91 RM - Bundesliga
The FUT Hero Shapeshifters pack is available for a limited time.