FIFA
FIFA 22 Future Stars: 5 Players We Want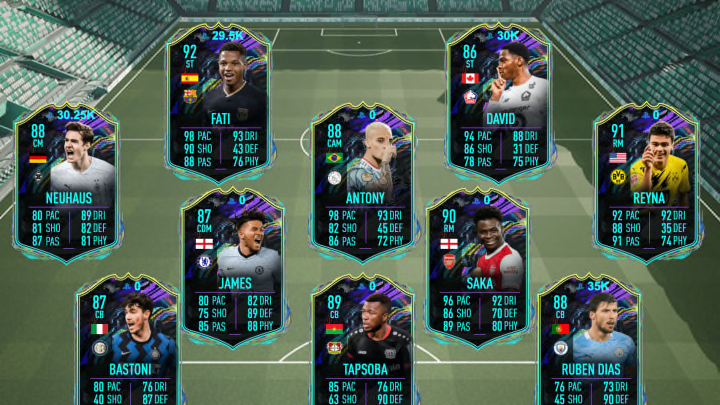 FUT Future Stars FIFA 21 / Photo Courtesy of FUTBIN
If EA Sports keep up the same pattern they followed in FIFA 21, then the next promotion after TOTY ends next Friday, Feb. 4 should be FIFA 22 FUT Future Stars. The Future Stars promo typically features two squads showcasing the best young talents in the world, giving their FUT cards massive upgrades based on what EA sees their potential as in a few years time.
There are plenty of players that can feature in this promotion, with Europe's top five leagues displaying some of the best young talent world soccer has to offer. Here are five of the player's we'd like to see featured in FIFA 22 Future Stars.
1. Jamal Musiala (CAM, Bayern Munich)
1. FC Köln v FC Bayern München - Bundesliga / Alexander Scheuber/GettyImages
Germany houses some of the best rising stars in football today, and one of them is Bayern's Jamal Musiala. The youngster plays a variety of positions for Bayern, and has emerged as an impact substitute for the Bundesliga giants, finding ways to contribute every game whether it be as a winger or attacking midfielder. His passes and skills are brilliant, and his game would translate well into FUT if he is granted a Future Stars card. Especially if EA upgrade his skill moves or weak foot, we definitely expect Musiala to feature as a Future Star.
2. Jude Bellingham (CM, Dortmund)
Borussia Dortmund v Sport-Club Freiburg - Bundesliga / Lars Baron/GettyImages
Bellingham was a big addition to Dortmund in 2021 and has featured in most of his team's starting 11s as one of their better midfielders. As a box-to-box, there aren't many young talents as well rounded as the Englishman, who already has the eyes of not just fans but some of the biggest Premier League clubs on him. We expect that he may have one of the higher-rated cards included in the Future Stars, it's just a matter of how highly EA rates him. He also featured in the EA Sports next-generation mini release for those who played the next-gen version of FIFA 22, it seems likely that he will be included in the Future Stars if his performances haven't spoken loudly enough.
3. Rayan Cherki (CAM, OL)

Olympique Lyonnais v Paris Saint Germain - Ligue 1 Uber Eats / Eurasia Sport Images/GettyImages
Cherki is a solid young talent for Lyon, who has displayed great performances for the team in his few appearances. While he may not be the most hyped prospect in the Ligue 1, he is definitely one to look out for in FUT Future Stars, and Career Mode players know why. His potential is solid, and as an attacker with the rare 5* skill moves and 5* weak foot combination, his Future Stars card would be lethal, whether as a RW or CAM. EA loves their broken cards, and this one would without a doubt be added to that list if included.
4. Dusan Vlahović (ST, Fiorentina)
ACF Fiorentina v Genoa CFC - Serie A / Gabriele Maltinti/GettyImages
At the time of publishing, rumors are flying that Vlahović may be signed by Juventus in the January transfer window for over $70 million. That should tell you how highly the young Serbian striker is rated. He is currently the joint highest scorer in the Serie A, and has surpassed Ronaldo as one of the best calendar-year scoring strikers in the League's history — and he turns only 22 this Friday. He's even nominated for the TOTY attackers in FUT. There isn't much that hasn't been said about Vlahović's potential to be one of the best pure strikers in the world in a few year's time, and his inclusion in FUT Future Stars is imminent.
5. Pedri (CM, Barcelona)
Deportivo Alaves v FC Barcelona - La Liga Santander / Quality Sport Images/GettyImages
Last but surely not least is the teenager who played in 73 games in 2021 for club and country, and proved why he is one of the best midfielders not just of his age group, but in the entire La Liga: Pedri. The La Masia graduate has had to slow down due to exhausting himself in 2021 with how many games he played, but the talent and potential is there, and Barcelona look to have him be the centerpiece of their midfield for years to come. In FIFA 22, he was placed at an 81 overall, a plus-nine upgrade from his silver card in FIFA 21, and a Future Stars card would likely make it into the 90+ rated range if he is featured in the promotion.