FIFA 22 LaLiga February POTM: Nominees, Release Date, How to Vote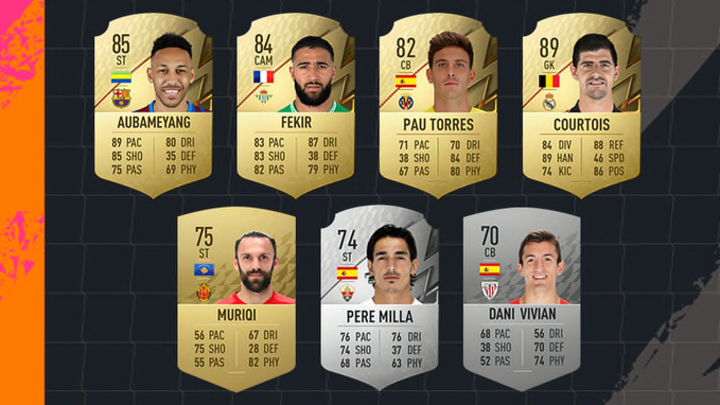 Photo by EA Sports
FIFA 22 LaLiga February POTM nominees were revealed by EA Sports on March 2 as fans can now vote for who they think deserves a special SBC item.
EA Sports releases multiple Player of the Month SBCs for leagues in FIFA Ultimate Team. Notably, leagues like the Premier League, Bundesliga and LaLiga have fan voting portions where they can contribute to who they think should win the award. The SBC is then released with an extended expiration date so players don't have to worry about completing it right away.
FIFA 22 LaLiga February POTM: Nominees
Here's a look at the nominees for the FIFA 22 LaLiga February POTM SBC:
Pierre-Emerick Aubameyang - ST / Barcelona - Four goals
Thibaut Courtois - GK / Real Madrid - Four clean sheets, zero goals conceded
Nabil Fekir - CAM / Real Betis - Two goals
Dani Vivan - CB / Athletic Club - One goal, one assist
Pau Torres - CB / Villarreal - One goal
Pere Milla - ST / Elche - Two goals, one assist
Based on the players' performances, it should come down to either Aubameyang or Courtois. Fans necessarily won't be enticed to vote for a goalkeeper, and this would be Aubameyang's second special Barcelona card after he earned a TOTW 23 item.
FIFA 22 LaLiga February POTM Release Date
The FIFA 22 LaLiga February POTM SBC should be released either March 10 or 11, during the FUT Birthday promotion.
How to Vote for the FIFA 22 LaLiga February POTM
Fans can head to the link here to cast their vote.