FIFA 22 Luis Figo Prime Icon SBC Leaked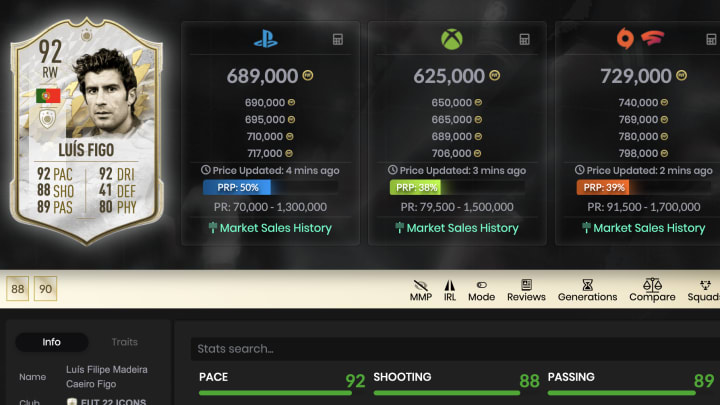 New Icons should be arriving in FIFA 22 Icon SBCs in the coming days, and according to leaks, one of them will be Portuguese legend Luis Figo. / Photo Courtesy of FUTBIN
New Icons should be arriving in FIFA 22 Icon SBCs in the coming days, and according to leaks, one of them will be Portuguese legend Luis Figo.
Luis Figo's Prime Icon is a very good card in FIFA 22, and according to leaker FUTSheriff on Twitter, he will be one of two new Icon SBCs arriving in the game "in the coming days."
FIFA 22 Luis Figo Prime Icon SBC Leaked
Figo's Prime Icon card is a RW, with four-star weak foot and skill moves, and possesses the Flair, Outside Foot Shot and Technical Dribbler traits. He has the following in-game stats:
Pace: 92
Shooting: 88
Passing: 89
Dribbling: 92
Defending: 41
Physical: 80
Most recently, we received as Icon SBCs earlier this month the Prime Icon versions of Nemanja Vidić and Kaká as Icon SBCs earlier this month. Both SBCs were mostly disliked by FUTBIN users, likely due to their prices. Figo's price on the transfer market is around 650,000 coins on Xbox, 690,000 coins on PlayStation, and over 700,000 coins on PC. Therefore, he will likely be an expensive SBC, but hopefully EA price him reasonably less than his FUT transfer market price.
It's unknown when in the coming days we should expect Figo FIFA 22, but if the leaks are true, it'll be a nice card to add during TOTY.