FIFA 22 March LaLiga POTM Nominees Revealed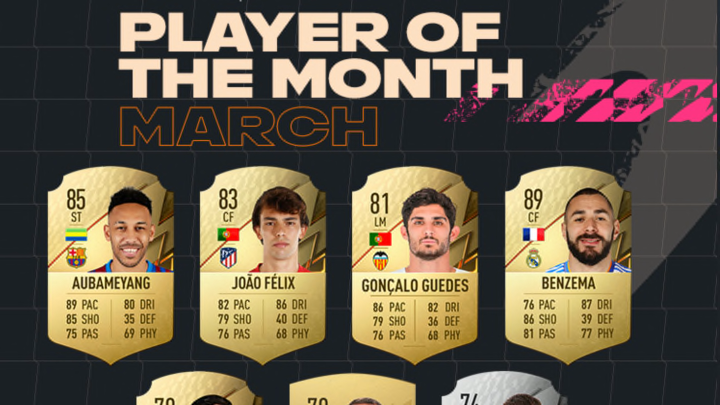 FIFA 22's LaLiga POTM nominees for March have been revealed / Photo Courtesy of EA Sports FIFA
The March Player of the Month nominees for the LaLiga have been revealed in FIFA 22, and feature some top players bidding for the award. Last month's POTM winner in the LaLiga was Real Madrid's Goalkeeper Thibaut Courtois, who has been phenomenal this season.
There are seven nominees for this months POTM winner in the LaLiga. Here's who's been nominated for the reward:
Karim Benzema (Real Madrid)
Joao Felix (Atletico Madrid)
Pierre-Emerick Aubameyang (Barcelona)
Gonçalo Guedes (Valencia)
Ezequiel Ávila (Osasuna)
Sergi Darder (Espanyol)
Rubén Alcaraz
Benzema already has one POTM award win to his name and has continued his stellar play for the current LaLiga-leading Real Madrid. Felix has also started to bring back that wonderkid form for Atletico Madrid that brought him to the club in 2019.
Aubameyang has recaptured his terrific play since joining Barcelona in January, and was one of the favorites to win February's POTM as well. Each of this month's nominees state a great case to win this month's award, leading their clubs to successful March's. You can vote now for the LaLiga POTM award winner by going to EA Sports FIFA's official website and voting for your choice of player. Let us know who you'd vote for.