FIFA
FIFA 22 Oleksander Zinchenko vs. Nacho Fernandez Showdown SBC Leaked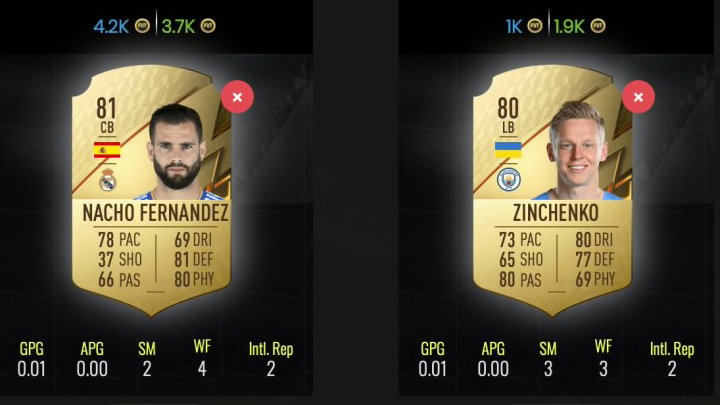 A new Showdown SBC set has been leaked for FIFA 22 within the next week. It features Oleksander Zinchenko and Nacho Fernandez / Photo Courtesy of FUTBIN
A new Showdown SBC set has been leaked for FIFA 22 within the next week. It features Oleksander Zinchenko of Manchester City and Nacho Fernandez of Real Madrid, ahead of their Champions League semifinal second leg on May 4.
The leak was delivered on Twitter courtesy of DonkTrading, a well-known FIFA 22 leaker in the FUT Community. The stats of each card have yet to be leaked, but with the stage of the game we are in, each card will likely start around 89-90 rated. Neither player has yet to receive a special card this FIFA either. Being defenders, Zinchenko and Nacho Fernandez will hopefully not be too expensive.
Manchester City are currently winning on aggregate 4-3, and another win will see them through to the Champions League final. Real Madrid will be playing at home, where they have excelled all season through all competitions. They came from behind on aggregate to defeat Chelsea and PSG in previous rounds of the Champions League, so either team could win.
The player from the winning team receives a +2 boost, while the loser stays the same. If the two teams draw, both players receive a +1 overall boost. Both Zinchenko and Fernandez would receive the plus one upgrade if the game goes to extra time and penalities, so this is one of the most uncertain Showdown SBCs we'll see this year. Stay tuned for updates on how to complete each SBC when they are released.