FIFA 22 Premier League Ratings: Top 20 Players Revealed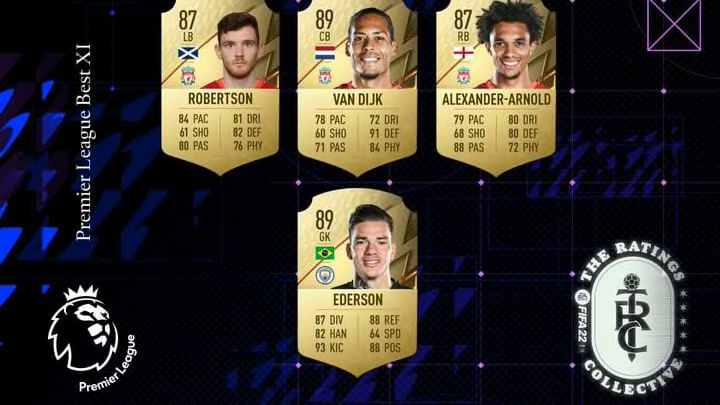 Photo by EA Sports
FIFA 22 Premier League ratings are being released in a sporadic manner by EA Sports and clubs in the competition, but now fans know the 20 best players in the league.
In years past, EA Sports would release a top 100 list comprised of the highest rated players in that FIFA Ultimate Team cycle. Now, a new initiative introduced last year, The Ratings Collective features sporadic releases highlighting and revealing ratings for the best players in the world across different leagues and clubs.
EA Sports' latest release highlights the highest rated players in the Premier League.
FIFA 22 Premier League Ratings: Top 11 Players Revealed
Here are the top 20 players in the Premier League for FIFA 22 Ultimate Team:
Cristiano Ronaldo - 91 ST - Manchester United
Kevin De Bruyne - 91 CM - Manchester City
Harry Kane - 90 ST - Tottenham Hotspur
N'Golo Kante - 90 CDM - Chelsea
Heung-min Son - 89 LM - Tottenham Hotspur
Mohamed Salah - 89 RW - Liverpool
Virgil Van Dijk - 89 CB - Liverpool
Ederson - 89 GK - Manchester City
Alisson - 89 GK - Liverpool
Sadio Mane - 89 LW - Liverpool
Bruno Fernandes - 88 CAM - Manchester United
Romelu Lukaku - 88 ST - Chelsea
Raheem Sterling - 88 LW - Manchester City
Andrew Robertson - 87 LB - Liverpool
Trent Alexander-Arnold - 87 RB - Liverpool
Ruben Dias - 87 CB - Manchester City
Jadon Sancho - 87 RM - Manchester United
Paul Pogba - 87 CM - Manchester United
Hugo Lloris - 87 GK - Tottenham Hotspur
Joao Cancelo - 86 RB - Manchester City
Liverpool leads the way with the most amount of players in the top 20 at six. No surprise considering the amount of talent Jurgen Klopp's side features. Manchester City is right behind Liverpool with five players, with Manchester United after that at four. Tottenham and Chelsea together make up the final five.
The Premier League has traditionally played home to the highest rated gold cards at launch, but the addition of Cristiano Ronaldo takes it over the top. As more and more squads and leagues are revealed, players can start to build squads for day one.