FIFA
FIFA 22 Premier League September POTM: Nominees, How to Vote, Release Date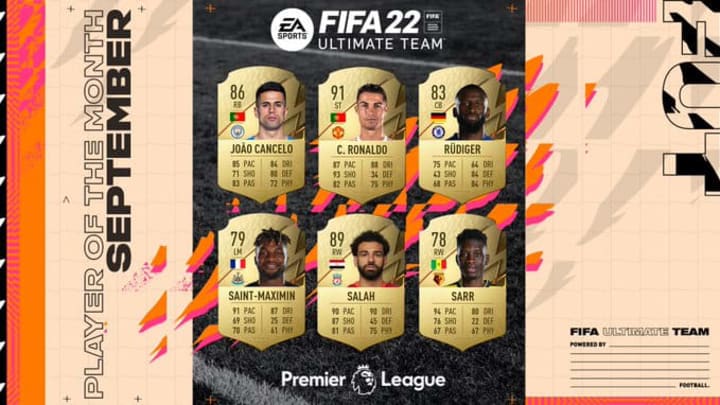 Photo by EA Sports
FIFA 22 Premier League September POTM information was released Sept. 30 headlined by six worth nominees.
EA Sports releases Player of the Month SBCs for each of the five major leagues. These are some of the most popular menu content drops giving players big upgrades to their squads immediately. Especially considering if some of the best players in the game are awarded. For example, Cristiano Ronaldo is up for the PL POTM this month. If he wins, expect players to do everything in their power to get the card.
FIFA 22 Premier League September POTM: Nominees, How to Vote, Release Date
Here's everything you need to know about the FIFA 22 PL POTM for September:
Nominees
Joao Cancelo - RB / Manchester City - Three clean sheets and one assist in three games
Cristiano Ronaldo - ST / Manchester United - Three goals in three games
Antonio Rudiger - CB / Chelsea - One goal, two clean sheets in three games
Allan Saint-Maximin - LM / Newcastle United - One goal, two assists in three games
Mohamed Salah - RW / Liverpool - Three goals in three games
Ismaila Sarr - RW / Watford - Three goals in three games
It's a tight race for PL POTM. Cancelo looks like the favorite considering Manchester City kept three clean sheets in two wins and one draw in September. Ronaldo will likely garner the most fan votes considering he's an endgame player. Mohamed Salah and Ismaila Sarr are also the only two to receive an in-form item for September.
How to Vote
Players can head to this link here to vote.
Release Date
The SBC is expected to drop sometime this week, most likely Friday, Oct. 8.